c/n 2139
Year 1966 to 1987
Helicopter Boeing-Vertol CH-46A Serial 2139 Register 152518 used by US Navy USN ,US Marine Corps USMC. Built 1966. Aircraft history and location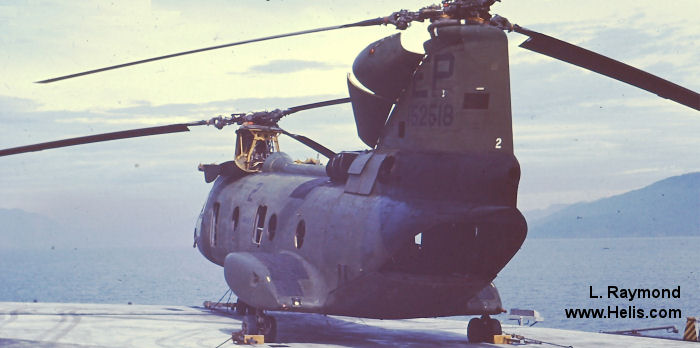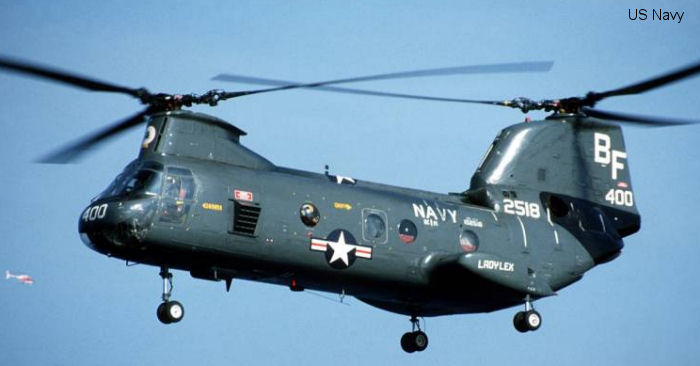 152518

US Marine Corps
1966-03-14

Boeing-Vertol HH-46A BV-107M, c/n 2139, ff?
del USMC 14Mar66 as CH-46A 152518
asgd Boeing FR Morton PA
xfer HMM-265 18mar66
xfer NAS Cubi Point 16May66
xfer HMM-265 12Sep66
xfer HAMRON 36 COSA 24May69
xfer H&MS-36 19Jun69
xfer HMM-165 05Oct69
xfer H&MS-36 COSA 02Sep70
xfer MARTD Lakehurst 19Apr71
xfer NARF Norfolk 12Oct72
xfer NARF Cherry Point 19Oct73
redesig HH-46A 30Nov73
xfer HCT-16 01Nov74
further unit xfers unk
HMM-165
1968-07
Jul68 HMM-265 /EP-2 on USS Tripoli (LPH-10). During take off with 12 marines and 20-25 feet above deck the left engine blew out. She came down and rolled towards the front end of the ship. All hands bailed out before it stopped rolling 3 feet short of going over the bow. (L.Raymond)


US Navy
as HC-16 /BF-400 at Pensacola. Notice TH-57 on background


1987-10-22
asg HC-5 /RB-12, unk
w/o 22oct87 video ditched in North Arabian Gulf off USNS Spica (T-AFS-9) when one engine failed during Vert Reo with USS Ranger. All crew rescued, helo sank.



John Preedom , TX account on Feb07:

I was on the flight deck of USNS Spica 22 Oct 87 when A/C 12 (Buno #152518 I think) control ditched into the North Arabian Sea. I was one of 2 Air Det personnel from H-5 Det 105 playing "hook up man", the other was AT3 Kevin Holley. It seemed like just another early morning "vert rep". We had already transferred over a few passengers to Ranger and had just vert repped a few loads to Ranger when A/C 12 coasted into a hover facing the starboard side of Spica. I wasn't really paying attention since it wasn't my turn to hook up the load to the helo. As AT3 Holley hand the pendant off to the aircrewman in the "hell hole" and runs out from underneath, I heard a very distinct sound that I remember to this day. An engine shutting down. I start to back up because I didn't know where the pilot was going go. Like I said, we had just started to vert rep and the Spica's flight deck is very small. We had pallets stacked 2 high from the very aft edge, all the way to the forward foul line. I figured if the pilot tried to land on the flight deck, it was going to get really nasty and I was going to jump over the side to save myself. As I start backing up, the pilot noses the helo over the starbord side. It clears the loads on the flight deck and continually loses altitude until it lands in the ocean. As the pilot tries to restart the malfunctioning engine, the other is trying to lift out of the sea. after several attempts, they "burn up" the good engine and are forced to shut it down. All crew, except the pilot are already out of the helo before he shuts down the engine. After the rotors stop, it tips over, the pilot escapes, and A/C 12 slowly slips beneath the waves. All crew are rescued by our other helo, aircrat 02, buno # 150938. All were uninjured except 1 air crewman who suffered a bruised knee when the "hell hole" door came open as he was trying to secure it on initial imapct with the water. Very scary but with all concerned virtually unscathed, we said our prayers, thanked our lucky stars and finished the last 2 months of the cruise with 1 aircraft.






| | |
| --- | --- |
| | |