Helicopter Sikorsky S-58C Serial 58-388 Register D-HAUD B12 OO-SHL used by Meravo Luftreederei GmbH (Meravo Air Shipping Company Ltd) ,Force Aérienne Belge (Belgian Air Force) ,SABENA (Societe Anonyme Belge d Exploitation de la Navigation Aerienne). Built 1956. Aircraft history and location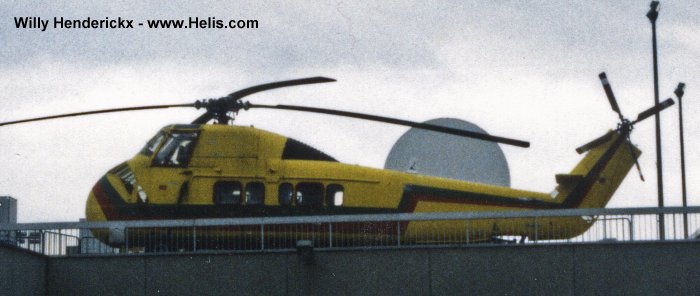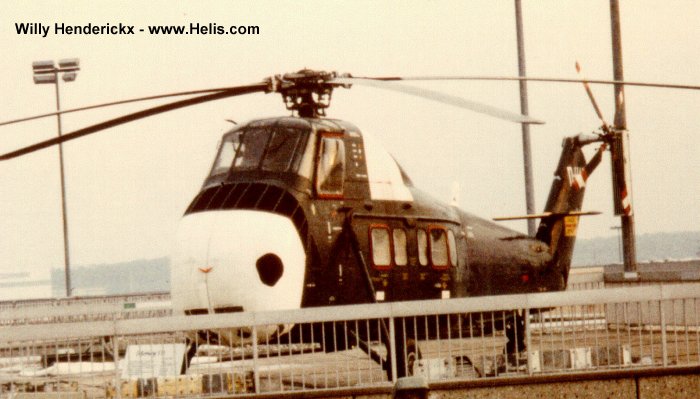 OO-SHL

SABENA
Sikorsky S-58C, c/n 58-388, ff?
27Dec56 del to Sabena NV at the Sikorsky Aircraft Corp. plant, Bridgeport, CT
04Jan57 delivered to Sabena NV, Brussels
06Jan57 arrived at Brussel-Melsbroek
15Feb57 registered OO-SHL (CofR 1116) Sabena NV, Brussels
03Mar57 inaugural service to Paris-Issy (Capt.C.Voos)
08May63 cancelled from Belgian Civil Register
to Belgian Air Force



B12

Force Aérienne Belge
ex SABENA
Belgian Air Force d/d 08may63 Heli Flight, Koksijde (Flight SRT - Short Range Transport) callsign B12/OT-ZKL
05Nov63 ferried to Koksijde
03Jun66 ferried to SABCA, Gosselies for IRAN inspection
Apr71 Helicopter Squadron, Koksijde
1974 40 Sqn, Koksijde
20Jul76 last flight for Belgian S-58C (tt 11200:11 hrs)
05Nov76 long term storage at Koksijde
22Mar78 ferried from Koksijde to Oedheim, Germany



D-HAUD

Meravo Luftreederei GmbH
ex SABENA, ex Belgian Air Force
22Mar78 ferried from Koksijde to Oedheim, Germany
May78 registered D-HAUD Meravo Luftreederei Fluggesellschaft mbh - Oedheim, Germany
May78 first noted operational as D-HAUD
27Apr84 last noted operational
1984 struck off charge
Jul84 first noted Air Classik collection, preserved Frankfurt (Germany)
Dec91 registration cancelled from German Register
2007 last noted at terminal Frankfurt. Restored by fire brigade in bare metal C/S and only 2 main rotorblades
1979
at Frankfurt


1991
at Frankfurt


2019-10-29
to Flugwelt museum Altenburg-Noblitz near Leipzig. Sabena colors on left side.
| | |
| --- | --- |
| | |