Helicopter Westland Wessex HAS.1 Serial wa 18 Register XM837 used by Westland ,Ministry of Defence (MoD) ,Fleet Air Arm RN (Royal Navy). Built 1961. Aircraft history and location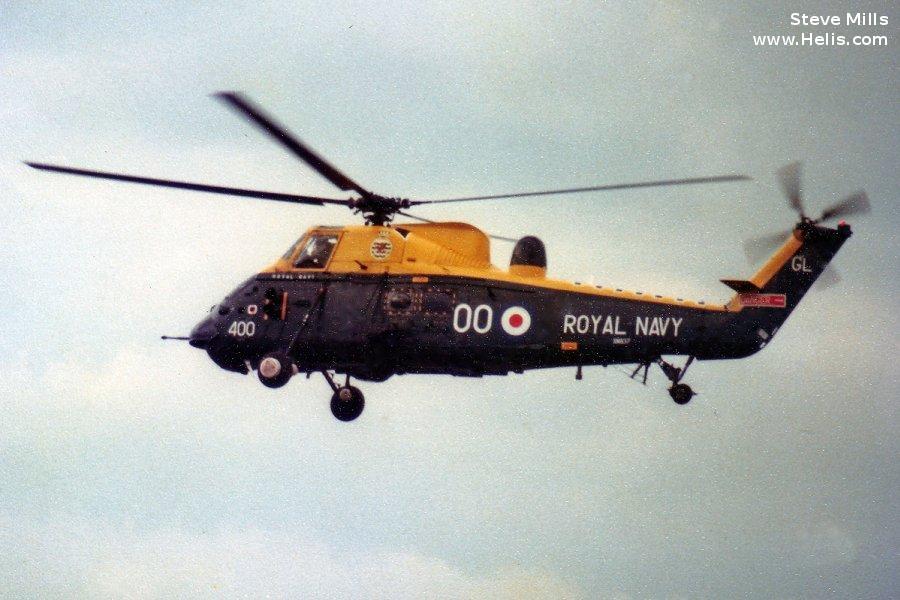 XM837

1971-07-02

HMS Blake

2 Jul 1971 Aboard HMS Blake as 820 Sq / 411-BL, while in Portsmouth
737 Sq Norfolk Flt/407-NF by Jan 1975, deployed from Norfolk onto RFA Olwen Feb 1976 to Mar 1976, 737 Sq Glamorgan Flt/400-GL by Mar 1981, still May 1981.
1978-08-27

A

HMNB Portsmouth

Navy Days

737 Sq Norfolk Flt/407-NF, flying at Navy Days, 26 and 27 Aug 1978
1981-07-18

B

EGHF
at RNAS Lee-on-Solent (HMS Daedalus) 1981 Air Day, operated by 737 Sq, HMS Glamorgan Flight. Destroyed less than a year later during the Falklands War whilst on board HMS Glamorgan



1982-03-11

C

EGDR
737Sq/400-GL noted at Culdrose, 11 Mar 1982
1982-06-12
Westland Wessex HAS.1, c/n WA018, f/f:?
del Royal Navy as XM837, 1961
conv HAS.3
w/o 12jun82
Now HAS.3, 814Sq/271-V by Oct 1967, 814Sq/271-H by May 1968, 820Sq/411-BL by May 1969 until c spring 1972.

D

South Atlantic (GL)

HMS Glamorgan Exocet hit

As HAS.3 737 Sq/400-GL on HMS Glamorgan, when destroyed by land-based Exocet missile on 12 Jun 1982, 16.5 nm NE of Lively Island.
1961-03

Fort Churchill

spent winter of 1960/61 in Churchill, Canada with A&AEE for icing / cold weather trials, returned Mar 1961.

Westland Wessex HAS.3 Westland trials and evaluation airframe until very early in 1966, when it entered conversion to HAS.3, emerging for its ff as such on 8 Aug 1967 and issue to Royal Navy.