c/n wa534
Year 1966 to 1988
Helicopter Westland Wessex HC.2 Serial wa534 Register XT607 used by Royal Air Force RAF. Built 1966. Aircraft history and location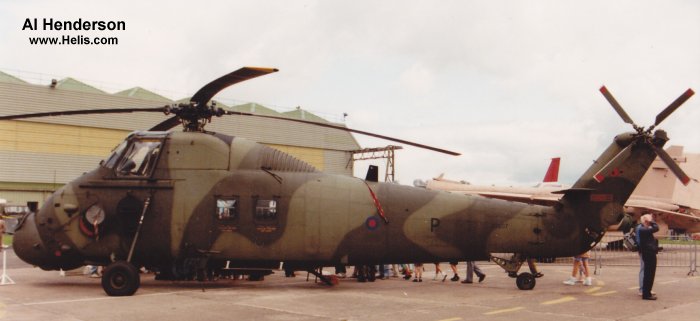 XT607

Royal Air Force
1966-09-08

A

NDAC Tidenham
Dive target Westland Wessex HC.2, c/n WA534, f/f 08sep66
del Royal Air Force as XT607, 18sep66
GIA Gosport, Hampshire, unk
to The National Diving & Activity Centre, Tidenham, Chepstow, Gloucestershire where it was sunk on
72 Sq/P by Jun 1968, 72 Sq/AP by Sep 1976, 72 Sq/P (still) by May 1984
1988-01-13

B

Crawfordsburn
Accident w/o 13 Jan 1988 with 72 Sq when force-landed near hospital at Crawfordsburn, North Down, NI. 72 Squadron Operation Banner
1993-06-20
20jun93 as P/ 72 Sqn at RAF Cosford Airshow 72 Squadron


to DARA Fleetlands by Jan 1999 still Feb 2000
G.I. HMS Sultan Gosport /J-O by Nov 2005, still Apr 2007.