c/n 58-844
Year 1958 to 1978
Helicopter Sikorsky H-34A Choctaw Serial 58-844 Register FAN519 57-1700 used by Fuerza Aerea de Nicaragua FAN (Nicaraguan Air Force) ,US Army Aviation Army. Built 1958. Aircraft history and location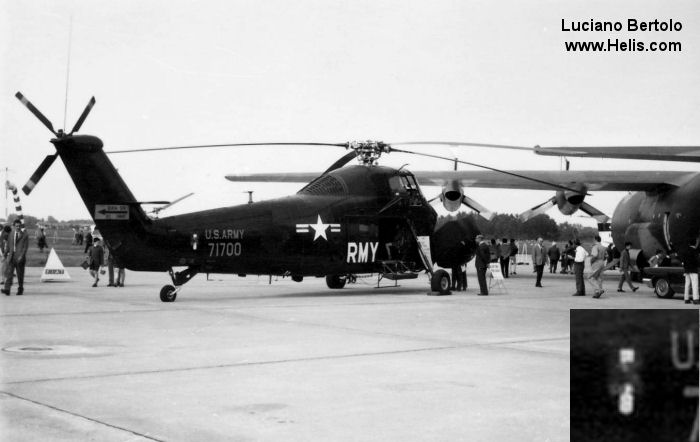 57-1700

US Army Aviation
1958-04-09

Sikorsky CH-34C Choctaw del US ARMY as H-34A, 09Apr58
conv CH-34C, Jan64
soc Atlanta Government Depot, May71
xfer Mississippi National Guard, Jul71-Jun74
wfu & xfer to MASDC as XJ0189, 30sep74
soc 29Jun75 Mississippi National Guard
1966

A

ETEB
1964- asg A Company 504th Aviation Battalion, 4th Armored Division as a VIP
was placed in storage , Katterbach Germany (Ansbach Army Airfield)
1968-06-12

B

LIMF
Salone Aeronautica in static display area of the 3rd Salone dell Aeronautica e dello Spazio at Turin/Caselle airport, Unfortunately the show was discontinued after the 1972 edition. As you can note, this Choctaw was wearing the badge of U.S. Army Southern European Task Force (SETAF), the winged San Marco Lion with open book over a three-color shield, and was then based at Verona/Boscomantico airport, in the Veneto region.

In origin, this winged lion was the symbol of the Republic of Venice in peace time, when a war was under way the book was closed. The same symbol was used by the Italian 87th Squadriglia during World War I. The Ansaldo SVA biplanes of this unit, under the command of poet-warrior Gabriele d Annunzio, performed a leaflet bombing over Wien in the closing period of the Great War. A true forerunner of the psychological air warfare.



For FAN519 see also:
hss-1n c/n 58-886





FAN519

Fuerza Aerea de Nicaragua
1978-11-17

Sikorsky S-58T conv S-58T, unk
del Nicaraguan AF as FAN519, unk
w/o 17Nov78.


-
1999-06
reported by JH Helicopter Services, Jun99.
| | |
| --- | --- |
| | |