c/n 61-627
Written off unknown
Helicopter Sikorsky CH-3E Serial 61-627 Register 67-14725 used by US Air Force. Aircraft history and location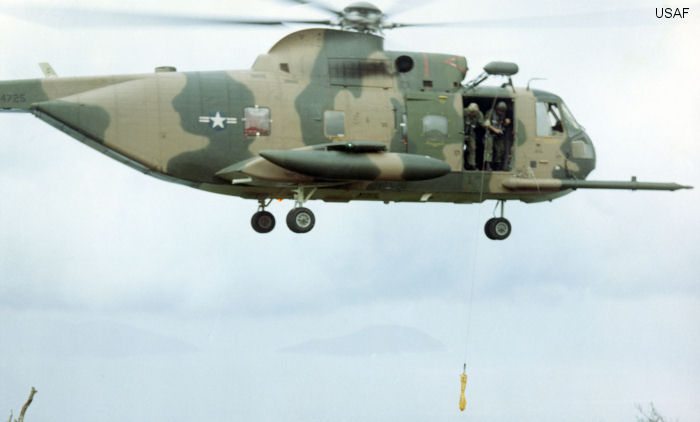 67-14725

US Air Force

Sikorsky HH-3E Jolly Green Giant USAF
unk date practices lowering a jungle penetrator
Sep71-Apr73 33 ARRS, Kadena AFB, Okinawa, Japan
1977 129th ARRS Howard AFB, California Air National Guard
w/o 30nov85 ? 129th RQS


Crashed in Sonora Pass, California



Jolly 725 crashed in Sonora Pass, California while enroute to a training exercise. The pass is at an elevation of 9624 feet, the aircraft came to rest on its right side after crashing through pine trees at the summit. The crash site was a rest stop where you can look down the mountain in both directions. They almost made it... Luckily, only minor injuries. The aircraft was determined to be too badly damaged to save. I was a member of the recovery crew.





I was a Navy corpsman assigned to the Marine corps Mountain Warfare Training Center, we responded to the accident that occurred in the camp ground at Sonora Pass. Found the aircraft on it's side, only injury was the flight engineer who broke his ankle while evacuating from aircraft.
1989, I came across the wreckage while deer hunting. Now I know the story. Dale USN VP-45 75-76
I was onboard Jolly 725 when we crashed



I was onboard Jolly 725 when we crashed in June 1987 as a Pararescue Specialist. There were 3 of us PJs onboard headed to Utah from NAS Moffet Field, CA to parachute jump into a training exercise. Total of 7 (Pilot, Co-pilot, FE, FM and 3 PJs). It was the flight mechanic who the Jolly Green rolled onto his ankle on the right side (crew entrance door that was open). He was strapped on a gunners belt. Flight engineer was ok. I broke a couple of ribs and was examined at the USMC Mountain Warfare Training Center by Navy medical then flown by CH-46 to a Reno hospital.






That H-3 was heavy and power limited that day. It was 20 degrees C at 10,000 feet! I know because I was the FE in the number two ship that day. We had to dump fuel to be able to land at the MCMWTC.
| | |
| --- | --- |
| | |