Helicopter Westland Whirlwind HAR.4 Serial wa 27 Register 8787M XD184 used by Royal Air Force RAF. Built 1954. Aircraft history and location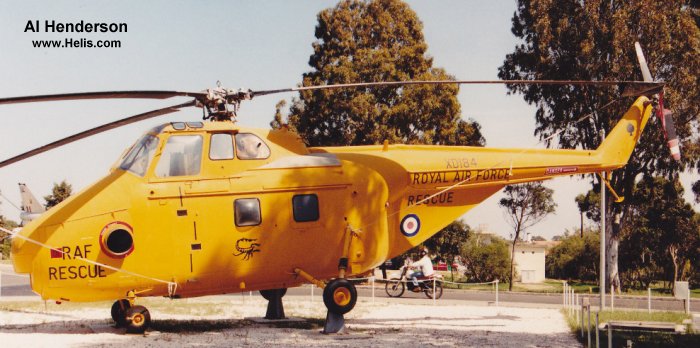 XD184

Royal Air Force
1954-08-13
Westland Whirlwind Ser.2, c/n WA27, f/f: 13Aug54
del Royal Air Force as Whirlwind HAR.4, XD184, 29Aug54.
1962-09-15

A

Acklington
Battle of Britain Day air show 228 Sq by 1962 228 Squadron

Westland Whirlwind HAR.10 conv HAR.10, XD184, unk
wfu as i/a, 8787M, unk
pres. Akrotiri, Cyprus.
1983-03

B

LCLK
Gate Guardian HAR.10 ex 84 Sq A Flt Spade, 8787M. To Larnaca as Gate Gauardian by Mar 1983. 84 Squadron
1993-03

C

LCRA
RAF
Mar.93 HAR.10 type preserved in 84 Sqn colors at RAF Akrotiri, Cyprus 84 Squadron





8787M

Royal Air Force
1993-03

D

RAF Akrotiri guardhouse
Gate Guardian as RAF Akrotiri gate guard, from Sep 1983 (still here 1987).