Helicopter Aerospatiale SA330L Puma Serial 1591 Register ZE449 PA-12 used by Royal Air Force RAF ,Westland ,Prefectura Naval Argentina PNA (Argentine Coast Guard). Built 1978. Aircraft history and location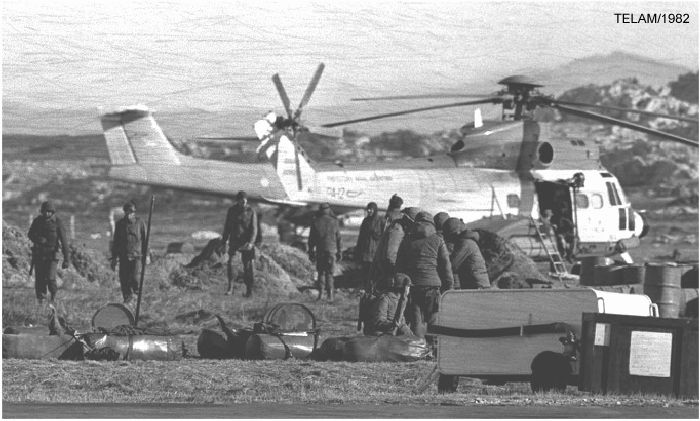 PA-12

1980-10-20

A

SFAL
PNA d/d 20oct80
apr/jun82 at Stanley during Malvinas/Falklands war, IA-58 Pucara on background
Captured by UK and reused as ZE449






ZE449

1990-03

B

Sherborne

G I Airframe

at Westland Training Centre by Mar 1990
2001

C

GBWSM
repaired by Westland at Weston Super Mare



" The A/C (ZE449) was repaired and converted to RAF HC MK1 standard at the Weston -super-Mare Division of Westland Helicopters Ltd, (latterly known as Westland Industrial Products Ltd.) over a prolonged period, until final completion and delivery to RAF service in 2001. The major structural elements in the cockpit and nose wheel box areas had been severely damaged by a grenade during the Falklands Conflict. These were replaced using salvaged items, taken from Puma

XW215

, which had ditched in the sea and was considered to be beyond economical repair (Cat 5) and written off in the mid 1990's. Other RAF MK1 specific parts and installations were obtained from RAF spares stock or manufactured from new, to complete the conversion.

Before arriving to the factory for the actual conversion work, it had spent a number of years as a Static Training Aid in RAF workshops. Consequently, it had deteriorated even further since it was damaged during the Conflict. They managed to salvage the central part of the airframe: the Cabin area between the Cockpit Bulkhead and the Transportation Joint (Tail boom / Main fuselage joint line) and even this had to undergo some major repairs and modification work before it was fit for use. The vast majority of the other items - Fuel and Hydraulic systems, Engines and all Transmission and Rotor items, had to be replaced. It had a new Tail Boom and Horizontal Stabiliser, plus completely new Electrical / Avionic Systems and Undercarriage.

After the major airframe was repaired. ZE449 was the last Puma to leave the Weston facility before the site closed in 2002. "



2009-06
1563 Flt, in Iraq Jun 2009 1563 Flt Operation Telic
2009-07-02

Aerospatiale SA330E Puma RAF
ex Argentine coast guard PA-12 captured Falklands/Mavinas
2001 conv to Puma HC.1 type
2003 with 33sqd in Iraqui Freedom operation
w/o 02jul09
2014-04-08

D

Whittington Barracks

Preserved

8 Apr 2014 By road from Shawbury to Whittington Barracks, Lichfield.