c/n 342
Year 1988 to 1994
Helicopter Westland Lynx mk88 Serial 342 Register 83+16 used by Marineflieger (German Navy ). Built 1988. Aircraft history and location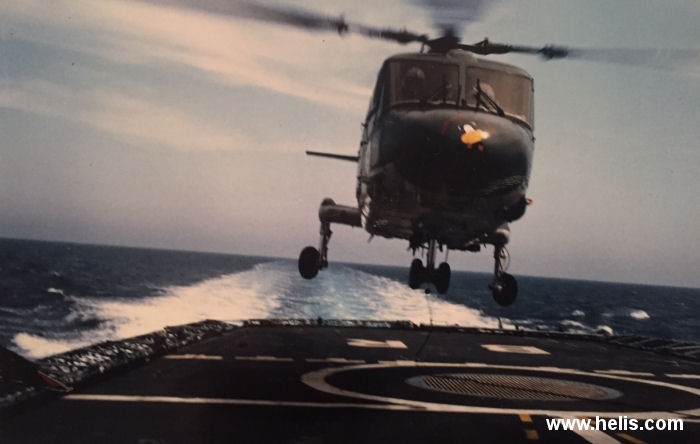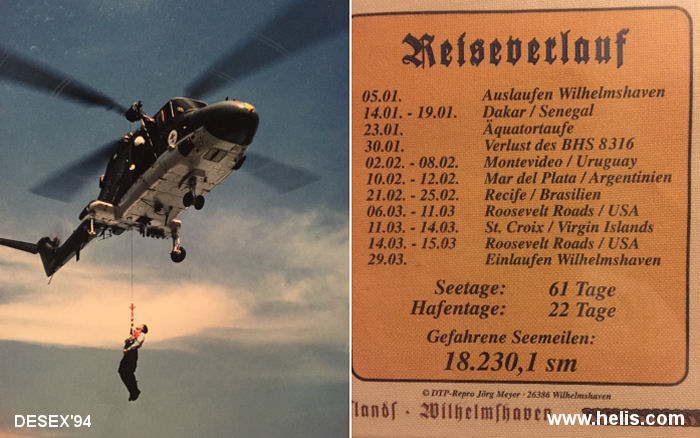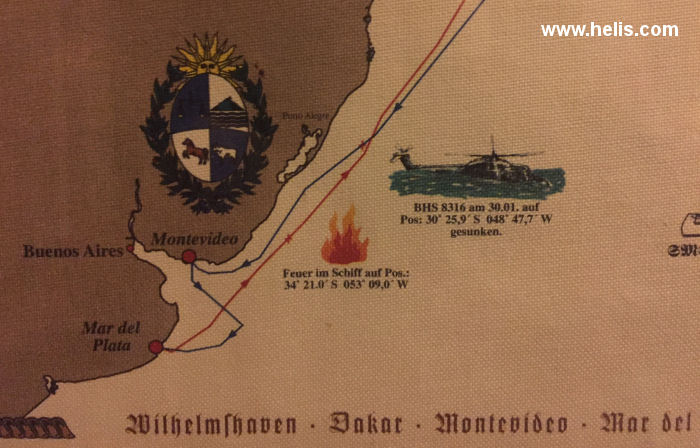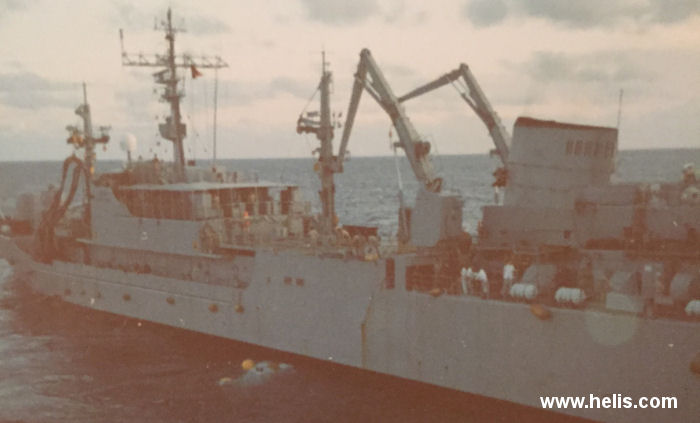 ID
New Layout

83+16


Marineflieger

For 83+16 see also:
V43 c/n WG 16


Germany navy f/f 19aug88, test serial ZG868
d/d 08sep88
w/o 30jan94

83+16


Marineflieger
30jan94 Lynx 83 16 crash w/o ditch into the South Atlantic off Brazil at position 30°25.9'S 048°47.7'W during DESEX'94 (Destroyers Exercise). Crew was saved



BHS 83+16 "Al Bundy" was one of the two board helicopters of

FGS Bremen

(F207).

I was the navigation p.o. on board and among other things I was responsible for writing the ship's logbook. That's why I had to know and write down every little detail of the crash. It happened on the 30th of January 1994. We were on our way to Montevideo. It was a sunny afternoon and the sea was very calm. The heli crew was permanently landing and taking off again, simulating emergency situations such as an unexpected performance throttling which then really happened to happen (on top of the already reduced power of one of the turbines). The heli was about to land and hovering right above flight deck when it suddenly started twisting. The HO's still could pull it away in order to avoid a crash on deck and went for a ditching instead. We got them out sound and safe.

After 30 mins the heli turned belly up, still kept up by the emergency balloons which inflated on ditching and a rubber dinghy that our divers shoved into the cabin. Meanwhile we could fix it with several ropes on starboard side next to the flight deck but still in the water. We had tried to get it out for about 6 hours in a salvage operation together with A1413 "Freiburg" and A1443 "Rhön".

The operation failed when a rope that kept the helicopter torn while handing it over to A1413 "Freiburg" (they had more powerful cranes to get it out) and the heli went down 150 meters on sea ground. During this operation A1443 "Rhön" kept us in a stable position with ropes on our port side in order to avoid a collision (driven by the wind) with "Freiburg" on our starboard side because "Bremen" was not maneuverable (the heli rotor blades compromised our propellers).

Once we arrived in Montevideo, investigators from the Bundeswehr (Federal German Forces), the Luftfahrtbundesamt (Federal Aviation Authority) and the Bundesstelle für Flugunfalluntersuchung (German Federal Bureau for aircrash investigation) flew in and started an investigation. They came to the conclusion the the accident could not have been avoided and that all measures were performed in the right way.

The maneuver was called DESEX94 (destroyer exercises). The trip lasted 3 months. Participating units were:

F207

Bremen

F208

Niedersachsen

F210

Emden

D182

Schleswig-Holstein

A1413

Freiburg

A1443

Rhön

We were sailing from our home base Wilhelmshaven to Dakar/Senegal, Montevideo/Uruguay,

Mar del Plata/Argentina

, Recife/Brazil and U.S. Naval base Roosevelt Roads/Puerto Rico.

After leaving Montevideo (with military honors to the wreck of the "Admiral Graf Spee" which lays on the ground of the Rio de la Plata), we were running some unplanned exercises with the Uruguayan navy which landed an old beautiful

Wessex

on our flight deck. The common maneuver went so well that the Argentinean Navy invited us to come for a short visit to Mar del Plata.

Later we sailed to the Caribbean for missile shooting.



| | |
| --- | --- |
| | |