Helicopter Westland Whirlwind SRS.1 Serial wa113 Register 9Y-TDA EP-HAC G-AODA used by Bristow Caribbean Westland Bristow World Wide Helicopters. Built 1955. Aircraft history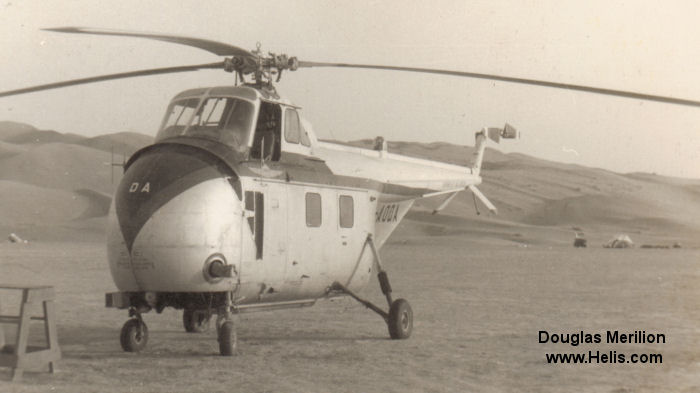 ID

G-AODA


Westland
Westland aircraft Ltd May/Sep 1955. One of two series 1 airframes with 600hp Pratt & Whitney R-1340 radial piston engines

G-AODA



Shell UK, Sep55-Oct61

G-AODA



Al Bateen ( 1959 )
1959 when I worked for Robert H Ray Co, an American geophysical company. They were contracted to IPC to do gravity exploration in the Liwa Oasis and other parts of Abu Dhabi. G-AODA was used on a daily basis to ferry personnel to the work area in mountainous sand dunes.

G-AODA


World Wide Helicopters
World Wide Helicopters (UK) Ltd Oct61-Oct64

G-AODA


Bristow
Westland Whirlwind SRS.3
Bristow Helicopters from May65
Jul65 conv Ser.3 with a single 1050 shp Bristol-Siddely Gnome H1000 turboshaft engine and twelve passenger seats
after extended period offshore, rtn to UK and remained based at Redhill for pilot training and charter operations until 1980

9Y-TDA


Bristow Caribbean
Bristow Trinidad & Tobago 1969-1974

EP-HAC



leased Iranian Helicopter Co as EP-HAC, unk
operated in the Persian Gulf area supporting offshore oil installations
Also used with Conoco in Kuantan, Malaysia

G-AODA


Bristow
Redhill ( 21-may-77 )
21may77 at Redhill

G-AODA


Bristow
1980 used by BAe Dynamics and GEC/Marconi in development of anti-tank missile guidance system. The trials contract involved several years of very low flying by Bristow pilots, all day, in all weather conditions, at 200 to 300 feet, in the UK and other European countries

continued to fly until 1990
Aug93 donated it to The Helicopter Museum.
| | |
| --- | --- |
| | |