Helicopter Aerospatiale SE3130 Alouette II Serial 1583 Register 2-ALOU G-CICS XR379 used by Ministry of Defence (MoD) ,Army Air Corps AAC (British Army). Built 1961. Aircraft history and location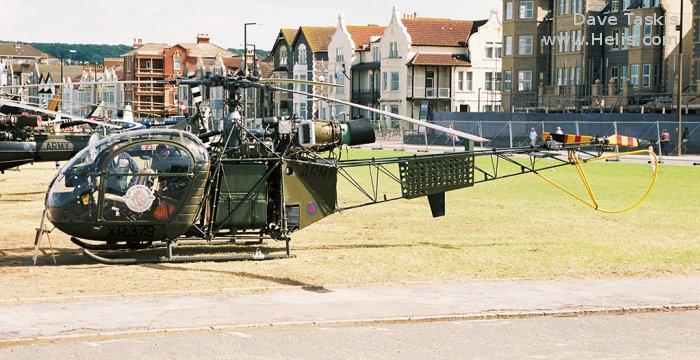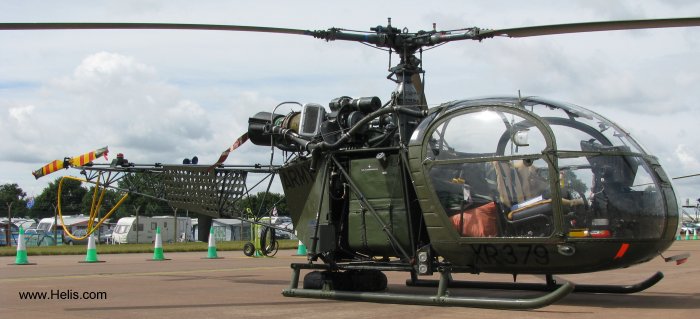 XR379

dd May 1961 as F-WIEN to Middle Wallop. Originally serialled XJ379 until corrected. 18 Flt at Detmold from Jun 1961, 27 Flt Bunde until Nov 1969, 6 Flt 20 Nov 1969 still Sep 1972, 16 Flt until 1988, RNAY Wroughton Oct 1988, Museum of Army Flying, to AAC Historic Flt 25 Jul 1990. 7 Flt
1974-11-12

A

EGBB

Visiting

noted at Birmingham as Army 337.
1976-07-31

B

EGVI

IAT 1976

noted at Greenham Common Airshow. 6 Flt
2007-07-29

C

Weston Beach Gardens

Helidays 2007

with AAC Historic Flight, at Weston-super-Mare Beach Gardens for Helidays 2007 Historic Aircraft Flight



2010 AACHF (army air corps historic flight)






G-CICS

2015-03

D

EGVP
MoD Army Historic Aircraft Flight at Army Aviation Centre Middle Wallop Nov13-
History Aircraft Flight Trust at HQ AAVN Centre Middle Wallop -May17



2-ALOU

apr18

-
2017-10-20
ex G-CICS, to Guernsey as 2-ALOU.
2017-11-11

E

EGBR
noted in 2-ALOU marks at Breighton.
2018-04
Apr18 overhauled and re registered 2-ALOU. Based near York, UK with permission from the British army to fly using the original serial
2018-04-07

D

EGVP

Auster 80th Anniversary

attended Auster 80th Anniversary fly in at Middle Wallop
2018-12

F

EGLM
moved to new owners at White Waltham EGLM, 2-ALOU retained.
2021-01-01

G

Great Oakley
purchased by Lark Aviation in Jan21
kept at Great Oakley, Essex by Dec22. She is in excellent condition and is well maintained
Lark Aviation is a small company owned by current and Ex Army aviators and maintainers
2021-04-04

H

EGMC
noted at Southend.