Helicopter MBB Bo105C Serial S-80 Register G-THLS G-BCXO D-HDCE used by Trinity House Lighthouse Operations ,Bond Aviation Group ,MBB. Built 1973. Aircraft history and location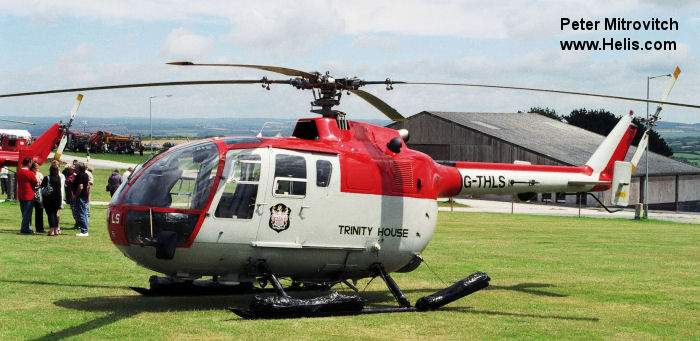 For D-HDCE see also
ab412 25504





D-HDCE

1975-02
MBB, conv to 105D
Feb75 to Helicopter Marketing Ltd, UK as G-BCXO



G-BCXO

Bond Helicopters Feb76-Mar92
1992 preserved as G-BOND at Land End Landmark, England
1996 preserved reser G-CDBS

-

Rotortech rebuilt as Bo.105DBS-4 type c/n S-80/859 G-THLS
1992-03

A

Lands End

Exhibit

G-THLS was rebuilt with a new main pod. G-BCXO remains at Lands End on a pole, marked as G-BOND.



G-THLS

Bond Helicopters Feb92-Aug99, Bo.105DBS-4 c/n S.80/859
Bond Air Services Aug99-Oct04
2001-08-24

B

HMNB Portsmouth

IFoS 2001

aboard THV Patricia at Portsmouth. Lighthouse Operations International Festival of Sea 2001
2002-07-21

C

EGJ22
Trinity House, op by Bond Air Services
during 15th anniversary of the Cornwall Air Ambulance at Royal Cornwall Showground, Wadebridge



2004-09-16
Trinity House, by Bond Air Services
w/o 16sep04 ditched into sea after broke free off ship
LS slipped off the back of the Trinity House Vessel Patricia in poor weather off the coast of North Wales. Fortunately no one was in the aircraft at the time.