Helicopter Sikorsky CH-124 Sea King Serial 61-179 Register 12401 4001 used by Canadian Armed Forces ,Royal Canadian Navy (1945-1968). Built 1962. Aircraft history and location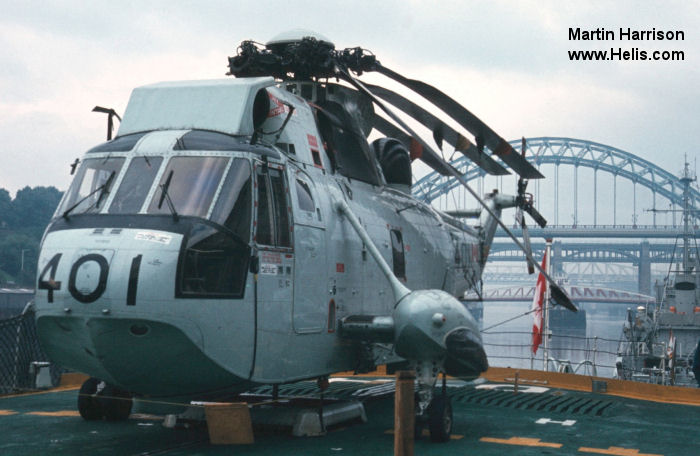 4001

2003-02-27
Sikorsky S-61B, c/n 61-179, del Royal Canadian Navy as CHSS-2, 4001, 1965
to CH-124A as 12401 Oct1968
modified to CH-124B unk
further modified with HELTAS to CH-124B-2 standard unk
crashed on take-off from HMCS Iroquois (DDH-280), 27Feb03.



12401

1980-11
Nov80 at Newcastle-upon-Tyne, Quayside, UK



1982
401
assigned to HMCS Annapolis for her Great Lakes 82 tour. 443MHS
1989-09-23
401

A

IEMTL

HMCS Athabaskan

ranged on deck of HMCS Athabaskan, during visit to Dublin.
2003-02-27
401

Accident

ex 4001. One of 6 CH-124B updated with HELTAS to CH-124B-2 standard. Crashed on take-off from HMCS Iroquois, back onto the flight deck during an emergency landing after a single engine failure, on 27 Feb 2003. Rolled onto starboard side, spilling its fuel and a magazine full of 7.62mm ammunition. c 100km SE of Halifax NS, en route for Operation Apollo in the Arabian Sea. Returned to Halifax where the airframe was craned off.
2012-12-14

B

CYAW

Exhibit

displayed at the Shearwater Aviation Museum, within the 12 Wing area on the base.
2021-11-15
01

B

CYAW

Exhibit

restored and repainted in original RCN colours as 4001, by Nov 2021, still at Shearwater Aviation Museum.