Helicopter Aerospatiale AS350B Ecureuil Serial 2189 Register C-GXLD C-GSLK N612LH VH-XHR G-LHPL 9M-BAZ ZK-HJW JA9808 used by Skyline Helicopters ,Eagle Copters ,Lloyd Helicopters US ,Lloyd Helicopters ,Lloyd Helicopters Europe Ltd ,London Helicopter Centres. Built 1988. Aircraft history and location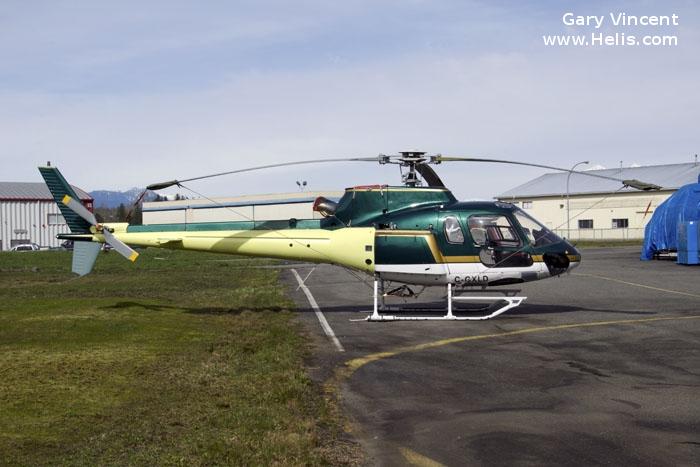 JA9808

-
to ZK-HJW

For ZK-HJW see also:
EC120B c/n 1502





ZK-HJW

-
to 9M-BAZ



9M-BAZ

-
to N612LH



G-LHPL

London Helicopter Centres
London Helicopters Centres May99-Jan00
Lloyd Helicopters Europe Ltd

Aerospatiale AS350BA Ecureuil Lloyd Helicopters Jan00-Jan04, BA type



VH-XHR

Lloyd Helicopters
Lloyd Australia 2004



N612LH

Lloyd Helicopters US
Lloyd Helicopters May/Jun 2004

For C-GSLK see also:
1983 as332L c/n 2079





C-GSLK

Eagle Copters

Aerospatiale AS350B2 Ecureuil Eagle Copters Maintenance Ltd July 2004, B2 type
Skyline Helicopters
Skyline Helicopters Jul04-Apr08



C-GXLD

-
2008-04
Thebacha Helicopters from Apr08
2016-05-18

A

CYNJ
at Langley, BC.