Helicopter Westland Wasp Serial f.9578 Register XS567 used by Fleet Air Arm RN (Royal Navy). Built 1964. Aircraft history and location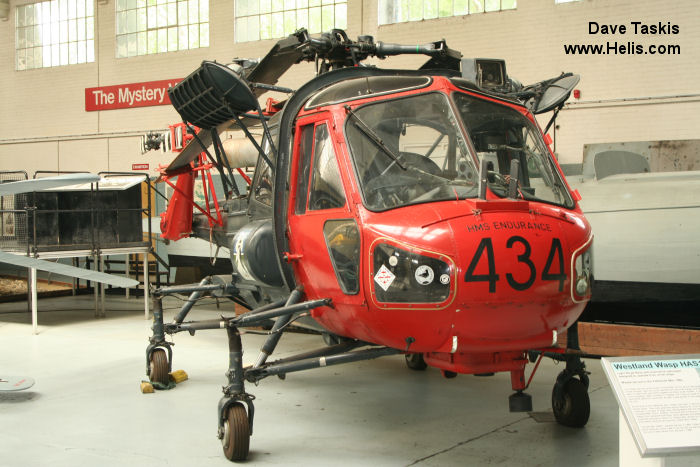 XS567

RNAY Fleetlands store by Jul 1964 to 1970
by Jun 1970 829Sq Gurkha Flt/444
1971-11
Nov 1971 with HMS Gurkha to Bay of Bengal Indo-Pakistan war contingency
Gurkha Flt / 444 until at least May 1975
by Oct 1967 829Sq Apollo Flt/470-AP until c Apr 1979
829Sq Diomede Flt/423 by Jun 1979
829Sq HQ Flt by Feb 1980
829Sq Apollo Flt/470-AP by Aug 1980 still Sep 1983
airfreighted to Belize to join 829Sq Active Flt/322 Aug 1984
829Sq Endurance Flt/434-E by Sep 1984
wfu Jun 1986, to AES Lee as A2719 by Jul 1986 until Sep 1992
pres. IWM Duxford (as /434-E) from Sep 1992.
Oct80-Mar83, as the Flight Commander of HMS Apollo, I flew this aircraft for several hundred hours including the inaugural Operation Armilla in the Gulf in 1981 and Operation Corporate in the Falklands in 1982.: It was a great little helicopter which never let me down in all that time. I also had 3 excellent leading aircrewmen during my time in Apollo: Joe Harper, John Greig and Taff Davies, who shared the cockpit with me and were a pleasure to fly with. Colin Milne, Lt Cdr RN retd. Armilla Patrol
2013-06-16

A

EGSU

Exhibit

16jun13 preserved as /434-E HMS Endurance in the Sea and Air building at Imperial War Museum, Duxford



XS567 was recoded from 444 to 470 in 1976 and not "1967" as per the entry. I noted is as "444" at Turnhouse on 9/6/76. I noted the replacement "444" as XT428 over Edinburgh on 20/4/77.