Helicopter Westland Dragonfly HR.3 Serial wa/h/061 Register WG751 used by Fleet Air Arm (Royal Navy). Built 1952. Aircraft history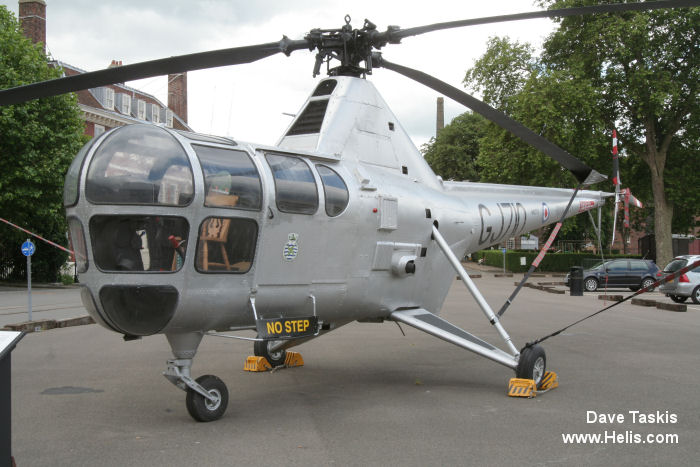 ID
New Layout

WG751


Fleet Air Arm
Donibristle HR.5 conversion ( apr-58 )
ff Nov 1952
705Sq/710-GJ by Mar 1953
Yeovilton Stn Flt/948-VL by Jan 1956
to RNAY Donibristle for conv to HR.5 Apr 1958

WG751


Fleet Air Arm
Westland Dragonfly HR.5
Portland Heliport ( mar-59 )
Yeovilton Stn Flt/948-VL by Aug 1958
First helicopter to land at newly re-built HMS Osprey (RNAS Portland), Mar 1959
Lossiemouth Stn Flt/933-LM by Apr 1961
Sold 1965
Aircraft Retired / Not available by 1965

WG751



Feb 1986 to Wisbech until c Jul 1982
Aug 1972 to scrapyard in Ancoats until mid 1977
1982 to location nr Samlesbury until autumn 1986
to Fleetlands Mar 1999 for partial restoration

WG751



HMD Chatham Exhibit ( aug-99 )
Chatham Historic Dockyard
Moved between several scrapyards and eventually restored at Fleetlands from Mar99
To Chatham Historic Dockyard by Aug99
Still there Jun09

WG751



Jun09 at the Chatham Historic Dockyard ( The wooden armchair in the cabin is not an original feature of this helicopter :-)

WG751



Sep16 still at Chatham Historic Dockyard

WG751



Feb19 still at Chatham dockyard. Rotor has been removed and scaffolding erected

WG751



Oct19 still at Chatham dock yard. Rotor fitted.