Helicopter Westland Wasp Serial f.9601 Register XT431 used by Fleet Air Arm (Royal Navy). Built 1965. Aircraft history and location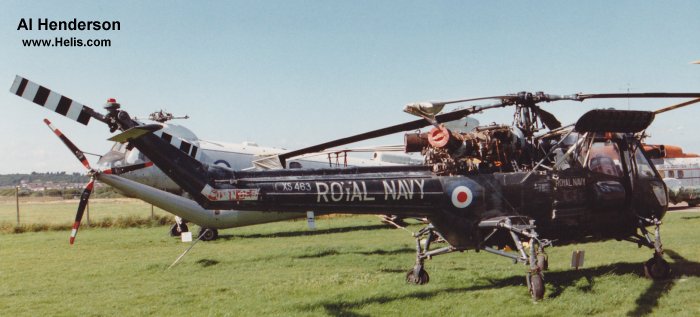 ID
New Layout

XT431


Fleet Air Arm
dd 5 Jul 1965 to RN. 829Sq HQ Flt/502 by Nov 1966, 829Sq Scylla Flt/432 by Mar 1972 still Apr 1976, 829Sq Jupiter Flt/443-JP by Jun 1976, 829Sq Rothesay Flt/462 by Apr 1980 still Aug 1981, Fleetlands Nov 1981 (fitted with tail boom of XS463).
Aircraft Retired / Not available by 1981

XT431


Fleet Air Arm
The Helicopter Museum, Weston-super-Mare by Dec 1980 still Jul 1994.

XT431


Fleet Air Arm
24jul93 Weston-super-Mare Exhibit preserved as XS463 at International Helicopter Museum (IHM), Weston-Super-Mare

XT431


Fleet Air Arm
Gatwick Aviation Museum by Nov 2008, still Apr 2011, still May 2013.

XT431


Fleet Air Arm
21dec13 Bournemouth Aviation Museum Exhibit To Bournemouth Aviation Museum 21 Dec 2013 (with boom from XS463, qv).