Helicopter Westland Wasp Serial f.9601 Register XT431 used by Fleet Air Arm (Royal Navy). Built 1965. Aircraft history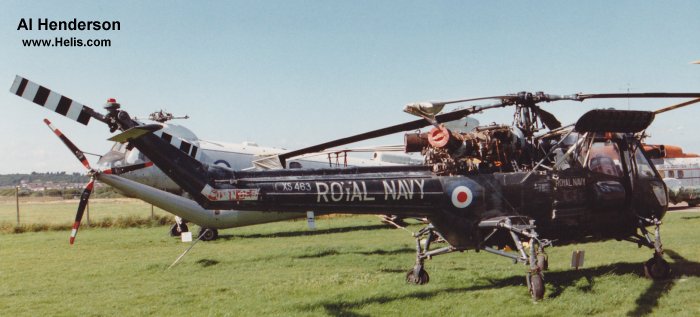 ID
New Layout

XT431


Fleet Air Arm
dd 5 Jul 1965 to RN. 829Sq HQ Flt/502 by Nov 1966, 829Sq Scylla Flt/432 by Mar 1972 still Apr 1976, 829Sq Jupiter Flt/443-JP by Jun 1976, 829Sq Rothesay Flt/462 by Apr 1980 still Aug 1981, Fleetlands Nov 1981 (fitted with tail boom of XS463).
Aircraft Retired / Not available by 1981

XT431


Fleet Air Arm
The Helicopter Museum, Weston-super-Mare by Dec 1980 still Jul 1994.

XT431


Fleet Air Arm
Weston-super-Mare Exhibit ( 24-jul-93 )
24jul93 preserved as XS463 at International Helicopter Museum (IHM), Weston-Super-Mare

XT431


Fleet Air Arm
Gatwick Aviation Museum by Nov 2008, still Apr 2011, still May 2013.

XT431


Fleet Air Arm
Bournemouth Aviation Museum Exhibit ( 21-dec-13 )
To Bournemouth Aviation Museum 21 Dec 2013 (with boom from XS463, qv).