Helicopter Westland Dragonfly HR.3 Serial wa/h/067 Register WH991 used by Fleet Air Arm RN (Royal Navy). Built 1952. Aircraft history and location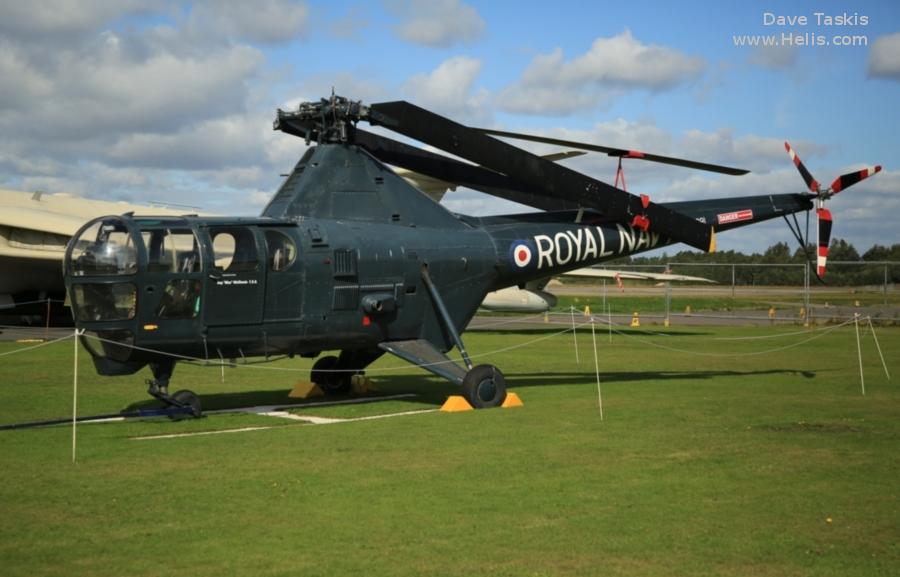 WH991

ff 4 Feb 1953 as HR.3, dd 24 Feb 1953 to RN at Gosport. To HMS Illustrious Ships Flt 24 Apr 1953 where it was damaged 1 May 1953 and returned to Westland for repair. Flying again by Autumn 1953, to 705Sq on 14 Jan 1954. To HMS Centaur Ships Flt on 18 Dec 1954. To Lee-on-Solent (HMS Daedalus) May 1956.
1956-06
917-GN

A

EGAE

Stn Flt

to Eglinton Station Flt Jun 1956.
1958-05

Westland Dragonfly HR.5 Converted to HR.5 by May 1958.
In Mar 1959 upper surfaces painted light colour for thermal trials in Caribbean aboard HMS Vidal as /969, returning to UK by Jul 1960. To 700H Sq at Yeovilton (HMS Heron) 2 May 1961. Undertook trials with Indian Navy aboard INS Vikrant (ex HMS Hercules) and on to 705Sq. Stored at Culdrose by 1964, to RNAY Fleetlands by 1967 and struck off charge Jun 1970. Sold.
1976-03

B

Tattershall

Restoration

undergoing restoration at the Lincolnshire Aviation Museum, by Mar 1976. (Still present Feb 1980 ?)
1994-10

C

EGYK

Exhibit

Preserved at Yorkshire Air Museum, England
2019-09-07

C

EGYK

Exhibit

7 Sep 2019 at Yorkshire Air Museum, Elvington.