Helicopter Bell UH-1N Serial 31401 Register 158230 used by US Navy USN ,US Marine Corps USMC. Built 1971. Aircraft history and location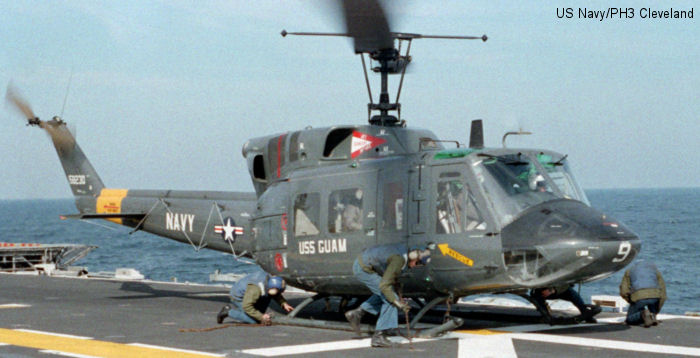 158230

US Marine Corps
USMC, to Navy
US Navy
1972-06

A

12NR
asg NAS Brunswick in early 1972 as a UH-1N
still there when I left in April 1973 NAS Brunswick SAR
1978-09

Bell HH-1N conv to HH-1N
Nov75 to Sep78 at NAS Brunswick SAR
Oct97-2008 China Lake NAS Brunswick SAR
1987-08-06
06aug87 asg USS Guam (LPH-9) as ship aircraft
then asg USS Guadalcanal (LPH-7)
15apr93 to AMARC-7H235



1993-04
Asg as SAR Helo for USS Guadalcanal (LPH-7) until Apr93 when she was sent to AMARC
I flew her from Oct90
She was the FIRST H-1N in the Navy inventory and she was an awesome helo!
Trying to determine if this was the HH-1N aboard LPH-7 that carried the "Angel" nose art. I believe it was, but have not been able to confirm with a photo.