Helicopter Westland Sea King Mk.48 Serial wa 835 Register RS05 used by Force Aérienne Belge (Belgian Air Force). Built 1976. Aircraft history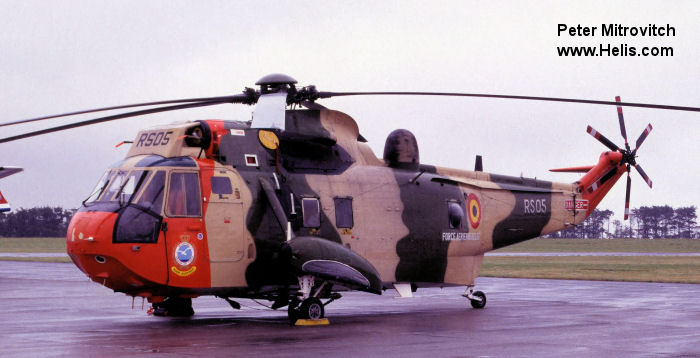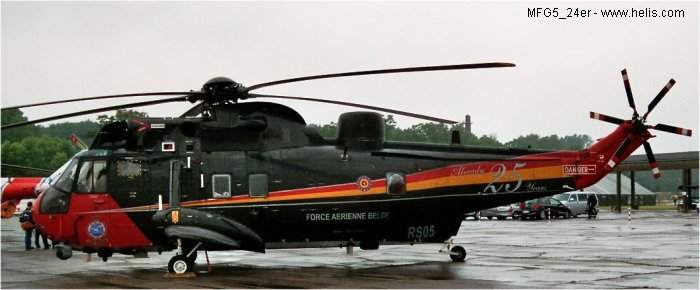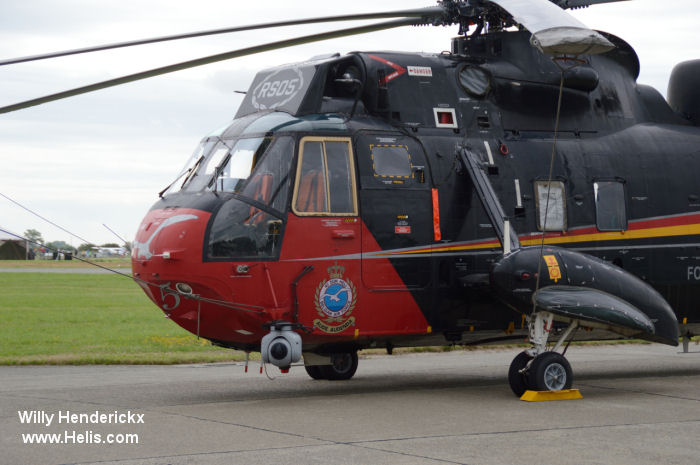 ID

RS05


Force Aérienne Belge
07jun76 first flight, ex G-BDNL/G-17-5
02jul76 handed over, crew on delivery : LtCdr.P.Pitt (Royal Navy), Cdt.J.S'Jegers, Olt.E.Vaneecke, 1SM.W.Vereecke
03may95 handed over to 40Sqn after Midlife Update by SABCA (first modernised aircraft)
09apr99 inflight fire on the returnflight to Koksijde after a paradrop at Schaffen (Diest) after a problem with the AC-generator. An emergency landing was made in a field near the Old Mill of Oordegem near Lede.  The fire department which was alerted managed to put out the fire quickly and the helicopter could continue its flight to Koksijde
Jun01 f/n scs 25 Years Sea King
13sep02 l/n 40Sm (scs), under maintenance at Sabca
22mar04 arrived at Koksijde after 17month at Sabca for upgrade
05may04 first flight after return to Koksijde
18may04 emergency landing at Valkenburg NAS (The Netherlands) after problems with the the hydraulic system of the rotorblades
14oct04 l/n 40Sm (scs)

RS05


Force Aérienne Belge
Newquay Cornwall Airport (RAF St Mawgan) ( 02-aug-94 )
02aug94 (top) at RAF St Mawgan, UK

RS05


Force Aérienne Belge
Leeuwarden ( oct-94 )
SAR meet 1994
Oct94 40sm. participated in SAR meet 94 from Leeuwarden air base Netherlands.

RS05


Force Aérienne Belge
Fairford ( 24-jul-99 )
24+25jul99 Fairford air show, UK

RS05


Force Aérienne Belge
18aug06 (middle1) at Eastbourne, UK with 25 yrs cammo

RS05


Force Aérienne Belge
Kiel-Holtenau ( jun-08 )
Jun08 (middle2) at SAR-MEET in Kiel-Holtenau, Germany. Special c/s is to anniversary 25 years belgians Sea Kings in duty.

RS05


Force Aérienne Belge
Koksijde / Coxyde ( 03-aug-14 ) Koksijde Fly-in 2014
03aug14 (bot) at Koksijde

RS05


Force Aérienne Belge
RNAS Culdrose Culdrose Air Day 2016 ( 27-jul-16 )
arrived 27 Jul for RNAS Culdrose Air Day, on 28 Jul 2016. Departed 29 Jul.
| | |
| --- | --- |
| | |