c/n M.4104
Year 1998 to 2005
Helicopter Boeing CH-47D Chinook Serial M.4104 Register D-104 N2069A used by Koninklijke Luchtmacht RNLAF (Royal Netherlands Air Force) ,Boeing Helicopters. Built 1998. Aircraft history and location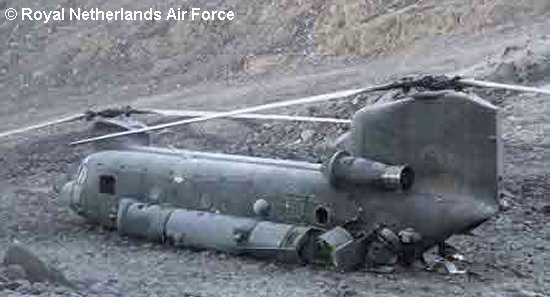 N2069A

Boeing Helicopters
Boeing toward D-104



D-104

Koninklijke Luchtmacht
NL011/mp.224 ex N2069A
2003-06-20

A

EHTW
2003 RNLAF AIR DAYS 20+21jun03 298Sqn. at "2003 KLu open dagen" 298 Squadron
2005-10-31

B

nr Salang
Accident CH-47D also known by mfg as M4104. Ex N2069A, d/d 11 Sep 1998 to KLu, arr Soesterberg 1 Oct 1998. To Kandahar, Afghanistan as part of Dutch contingent. Assigned as Medevac duty a/c at Mazar-e-Sharif 19 Aug 2005. Crashed 31 Oct 2005, 22nm NW of Bagram AB in the Hindukush Mountains, en route Kandahar via Bagram. (2nd RNLAF Chinook lost). Stripped of parts and destroyed in place on 13 Nov 2005.