Helicopter Westland Sea King HC.4 Serial wa 954 Register ZE427 used by Fleet Air Arm RN (Royal Navy). Built 1985. Aircraft history and location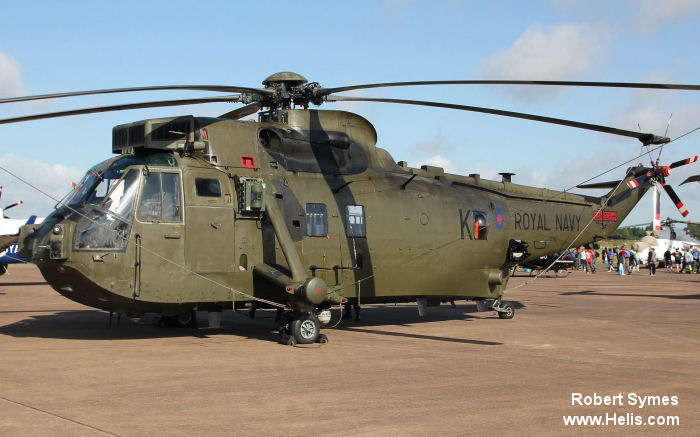 ZE427

RN
1992 846Sqn./VH 846 NAS
1997-10

A

Divulje Barracks Helipad
845Sqn./B SFOR (Divulje Barracks) 845 NAS SFOR (stabilisation force)
2000 845Sqn./B 845 NAS
2000-12-07

B

EGVN

Accident

damaged at RAF Brize Norton
2003 845Sqn./B embarked aboard HMS Ocean (L12)
2007 845Sqn./K 845 NAS
2009-08-27

C

EGDY
846Sq /K departed Yeovilton for Afghanistan 27 Aug 2009, with ZA298 /Y. Operation Herrick
2014-07-26

C

EGDY

Yeovilton Air Day 2014

as /K during the Commando Assault finale at RNAS Yeovilton



2015-05-09
K

D

Okehampton Camp

Ten Tors

visited Okehampton Camp in support of Ten Tors 2015 annual walk
2015-07-19

E

EGVA
848Sqn /K at RIAT 2015 848 NAS RIAT 2015



2018-12-18

C

EGDY
Departed RNAS Yeovilton on 18 Dec 2018 as an underslung load for a Chinook. It then travelled by sea to Sørreisa in Norway, by mid Jan 2019, as a gift for the Norwegian Government.
2019-02-15

F

ENDU

Gate Guardian

Presented as Gate Guardian to Norwegian Government at Bardufoss for hosting the annual UK deployment under Exercise Clockwork. By 15 Feb 2019, it stood next to an ex-Kystvakt Lynx.