c/n 2377
Year 1967 to 1973
Helicopter Boeing-Vertol CH-46D Serial 2377 Register 154026 used by US Marine Corps. Built 1967. Aircraft history and location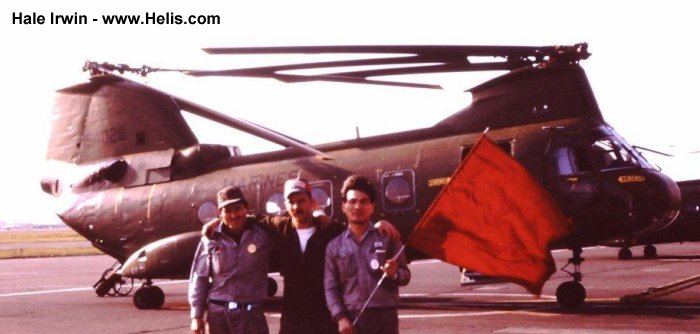 ID
New Layout

154026


US Marine Corps
BV-107M, c/n 2377, ff? accepted BuWepsRep, Morton, PA as CH-46D 154026, 25Oct67
xfer HMM-263 08Jan68
xfer HMMT-302 31Oct68
xfer H&MS-16 COSA 14Jul69
xfer HMM-364, YK-??, 08Aug69
xfer H&MS-36 23Feb71
xfer HMM-165 17Jun71
xfer HMM-164, YT-??, 21Nov72
w/o 06Dec73. HMM-164

154026


US Marine Corps
1970 during overhaul at Atsugi, Japan

154026


US Marine Corps
I think this is the one from HMM-164, MAG-36 (Futenma) that crashed near a construction site in Onaha, Nishihara Village - killing 4 crew and injuring another severely. HMM-164

154026


US Marine Corps
Chief Warrant Officer named Poe was the pilot, and the Crew a Chief was Danny Curry of I believe Dallas Texas. Curry and one other crewman were killed and the co pilot survived with bad injury. Warrant Officer Poe survived but was badly burned. They were flight testing the new BIM blades from Boeing, and had a blade failure as I recall.