Helicopter Boeing-Vertol CH-46F Serial 2478 Register 155309 used by US Marine Corps USMC. Built 1968. Aircraft history and location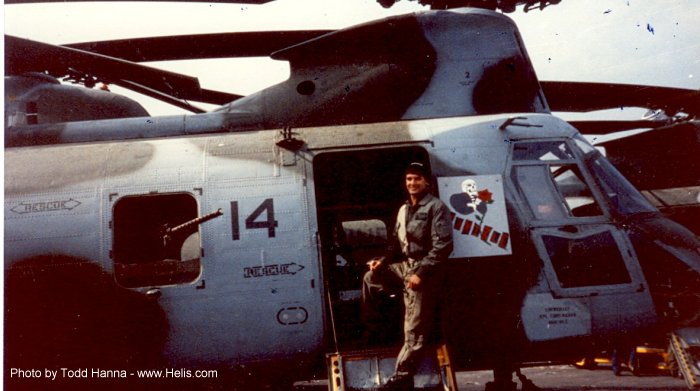 155309

US Marine Corps
1968-11-01
BV-107M, c/n 2478, ff?
accepted BuWepsRep, FR, Morton, PA as CH-46F 155309 01Nov68
xfer HMM-162 15Nov68
xfer H&MS-26 20May71
xfer NAS North Island A&T 16Feb72
xfer HMM-262 23Mar72
further unit xfers unk
conv CH-46E unk
xfer HMM-164, YT-14, MCAS Tustin, CA, unk
crew chief Todd Hanna, Sep87-Sep91
noted HMM-264, EH-02, 1994
noted HMM-261, EM-11, 2000
noted HMM-268, YQ-??, Nov04. HMM-162

Boeing-Vertol CH-46E 4mar83
Feb91 aboard the USS Okinawa (LPH-3)
Was my assigned aircraft as HMM-164 /YT-14 at MCAS Tustin, CA. I served in the squadron as a Crewchief from Sep87 to Sep91. Submitted by Todd Hanna


2014-04-22

A

AMARC / AMARG
2014 HMM-364 /PF-02
to AMARG HMM-364
2015-08-05

B

KNKT
05aug15 will land at FRCE for its final shut down ever



I was a mechanic at the DEPOT that did a lot of work and got it through flight test after a crash related to main mounting a bus unsuccessfully on a training mission. Four years of work brought her back as the PhankenPhrog. I dont know how I will react to the silence following shut down. At the Depot we called her Patches. if they could only talk and share the love that was shown to them.




| | |
| --- | --- |
| | |