Safran



Established 1938, Turbomeca produced low- and medium-power gas turbine turboshaft engines for helicopters and other applications. SNECMA Group acquired the company in September 2001. In 2005 SNECMA merged with SAGEM to form SAFRAN. In 2016 SAFRAN subsidiaries were rebranded into current names.

As of 2020, has produced over 72,000 turbines for more than 2,500 customers in 155 countries. With 6,300 employees worldwide (5000 in France) they produced around 718 new engines and repaired other 1700 annually.

The French State is Safran Helicopter Engines' first customer, with more than 1,600 engines powering around 550 helicopters in service. All of these engines have accumulated more than 3.4 million operating hours.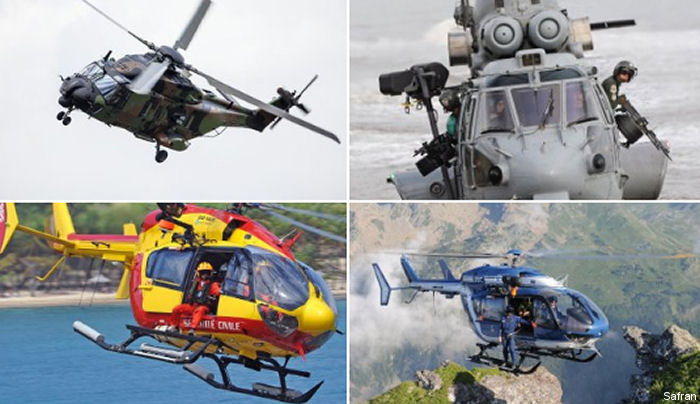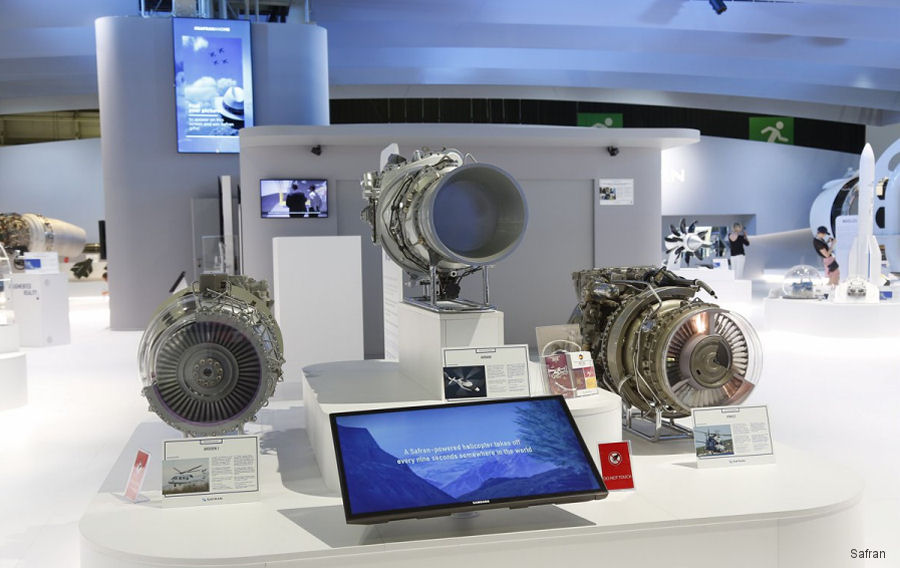 | | | |
| --- | --- | --- |
| | Models | |
| Add+ | | |
| Aneto | 3000 | |
| Aneto-1K | 2500 | aw189k |
| Aneto-1X | 2500 | Racer |
| Ardiden | | |
| Ardiden 1H1 Shakti | 1384 | dhruv , lch |
| Ardiden 1U / Shakti | 1400 | luh |
| Ardiden 3C / WZ16 | 1800 | AC352 |
| Ardiden 3G | 1680 | Ka-62 |
| Arrano | 1200 | H160 , H160M |
| Arriel | | |
| Arriel 1 | 681 | |
| Arriel 1B | 650 | hb350b |
| Arriel 1C2 | 763 | as565aa , as365n2 |
| Arriel 1D1 | 712 | as350b2 , AirMule / Cormorant |
| Arriel 1E2 | 738 | ec145 , uh-72a |
| Arriel 1K | 723 | a109k |
| Arriel 1M1 | 783 | as565sa |
| Arriel 1S1 | 403 | s-76c |
| Arriel 2B | 847 | as350b3 |
| Arriel 2B1 | 847 | ec130b4 |
| Arriel 2C | 851 | as365n3 |
| Arriel 2C1 | 839 | ec155b |
| Arriel 2C2 | 938 | ec155b1 |
| Arriel 2D | 952 | h125 , h130 , as350b3e , EC130T2 |
| Arriel 2E | 894 | bk117d3 , h145 , h145m , uh-72b |
| Arriel 2H | 986 | AC312E |
| Arriel 2L2 | 1024 | LCH / LAH |
| Arriel 2S2 | 897 | |
| Arrius | | |
| Arrius 2B1 | 430 | ec135t1 |
| Arrius 2B1A | 457 | |
| Arrius 2B2 | 485 | ec135t2 , ec135t2+ |
| Arrius 2B2Plus | 660 | ec135t3 |
| Arrius 2F | 450 | H120 , EC120 , EC120B |
| Arrius 2G1 | 580 | Ka-226T |
| Arrius 2R | 504 | 505 |
| Artouste | | SO-1120 Ariel III |
| Artouste IIC | 329 | Alouette II , se3130 |
| Artouste IIIB | 543 | sa315b , sa316b , se3160 , sa316b |
| Astazou | | SA361 Dauphin |
| Astazou IIA | 473 | |
| Astazou IIIC | 590 | |
| Astazou IIIN | 590 | ah.1 |
| Astazou XIV B | 543 | sa319b |
| Astazou XIV F | 543 | |
| Astazou XIV H | 590 | |
| Astazou XIV M | 590 | sa342m |
| TA-230 | 230 | a106 |
| Hybrid Propulsion | | |
| Makila | | |
| Makila 1A1 | 1768 | as332L1 , h215 , as332l1 , as532sc , Puma Mk2 |
| Makila 2A1 | 2382 | ec225lp |
| Palouste | | Ultralight , SO-1221 Djinn |
| Turmo | | |
| Turmo III B | 750 | SE.3200 Frelon |
| Turmo III C4 | 1169 | |
| Turmo III C7 | 1274 | super frelon |
| Turmo IV C | 1261 | sa330e , sa330l , 330L |