Satellite and aerial maps of Toddbrook Reservoir with nearby locations
Toggle Map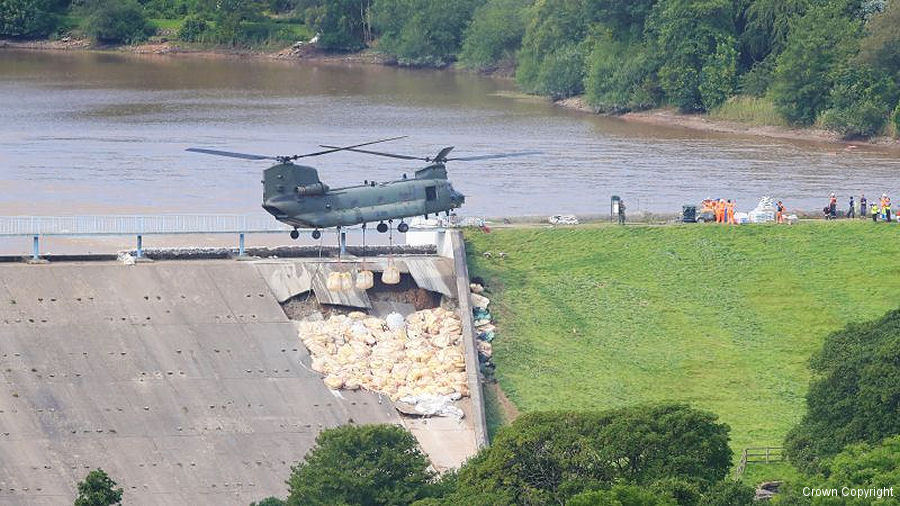 1838 to present

53° 19' 36.1'' N - 1° 59' 22'' W
0.3nm SW of Whaley Bridge
ICAO:
IATA:
Local: GBWYB
Elevation: 610 feet
The Toddbrook Reservoir has a gravity dam with a clay core, at its north eastern end, above Whaley Bridge. It was opened in 1838 as a header, to top up water for the Derbyshire canal systems.
Following unprecedented rainfall leading up to 1 Aug 2019, the Toddbrook Reservoir was overtopped by the level of water, as its spillway was unable to cope with the volume, leading to seepage through the joints between the solid downstream facing slabs and erosion of the outer core soil beneath them, giving rise to a risk of collapse.

Derbyshire Police is leading the civil response to the potential dam collapse at Toddbrook Reservoir. After it announced that Whaley Bridge would be evacuated, along with Fire Service and Army units, the RAF was called in to help mitigate the threat.
The immediate response is three-pronged:
reduce water pressure on the dam face by lowering the water level with high volume pumps (Fire Service / Royal Engineers)
temporarily stabilise the northern end of the dam spillway to resist the water pressure by adding mass (RAF Chinook)
temporarily reduce the amount of surface water entering the reservoir by blocking ingress channels (RAF Chinook).
RAF Chinooks were being sent in shifts from
RAF Odiham
and spent much of 2 and 3 Aug dropping up to 6 underslung bags of aggregate at a time from their 3 external load points, onto the dam face and around the reservoir to reduce inward flow. Around 400 tons is forecast to be needed and loading is being supervised from Long Hill, c 2.6nm to the SE of the dam spillway.
The Ordnance Survey (the UK mapping agency)
Mapping for Emergencies
team provided an analysis to assess the risk from flood impact for the Manchester and Derbyshire emergency coordinators.
The Royal Engineers had (amongst other things) been busy building solid platforms around the reservoir for the massive pumps needed to remove the water. By 07H30 on 5 Aug, the water level behind the dam had been reduced by 5 metres and by 19H30 on 6 Aug it had reached 9.5 metres. That meant that the water was below the level of the damage to the spillway, so both sides of the dam wall could be subject to an engineering assessment by the Canals and Rivers Trust (formerly British Waterways), which manages and maintains inland waterways in England and Wales.
Longer term, a structural assessment of the dam, together with recommendations for permanent re-instatement is likely to be needed.
By the end of the mission, crew members from the RAF flew Chinooks for 58 flying hours and laid 620 one-ton bags of aggregate to shore up the spillway.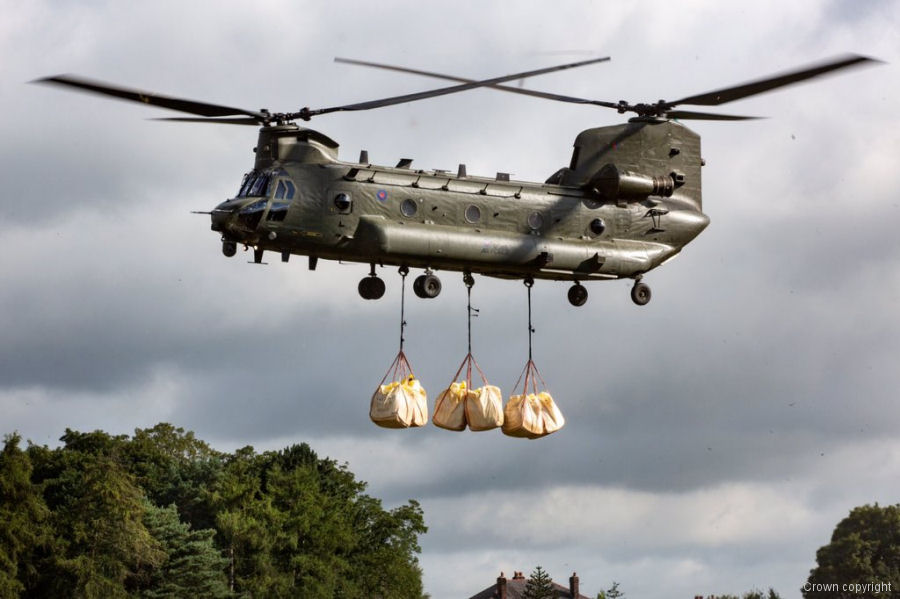 RAF Chinook Recognized with Kossler Award, 11-Apr-20 :

#Kossler RAF Chinook crews from RAF Odiham wins the Vertical Flight Society Kossler Award for their job done at the Todbrook Reservoir to save the town of Whaley Bridge in Derbyshire during the 2019 rainfall. The helicopters flew 58 hours and laid 620 one-ton bags of aggregate to shore up the spillway
Dates
Org/Type
Unit
2019-aug-02
Dam stabilisation
RAF
CH-47D
ZH777
2019-aug-02
Dam stabilisation
RAF
CH-47D
ZA720
2019-aug-02
Dam stabilisation
RAF
CH-47D
ZH891
2019-aug-03
Dam stabilisation
RAF
CH-47D
ZH893