Satellite and aerial maps of HMS Raleigh with nearby locations
Toggle Map
1940 to present

50° 22' 18'' N - 4° 13' 23.5'' W
2.3 nm SW of Tamar Bridges
ICAO:
IATA:
Elevation: 52 feet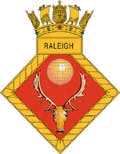 HMS Raleigh was established in Jan 1940 to provide basic training for RN recruits, on a sloping site adjacent to St Johns Lake, Millbrook, near Torpoint. By 1959 it had become the primary entry point for all non-officer recruits.
The hardstanding must have had one its busiest days on 13 May 1982, when 20 Wessex HU.5 of newly formed
847 Sq
arrived in three sections, prior to joining
mv Atlantic Causeway
in Plymouth Sound later that day for her departure to the South Atlantic .
With the growing pressure on budgets, like
HMS Sultan
in Gosport, HMS Raleigh has grown through centralisation of training activities. After an extensive rebuilding programme throughout the 1970s, WRNS training moved in from HMS Dauntless, followed in 1983 by the Supply School relocation from HMS Pembroke and the assumption of basic training for the artificer apprentices at adjacent HMS Fisgard. Further consolidation followed with the transfer of the Submarine School from Gosport in 2000 and the Military Training school in 2001 from the ex gunnery school at
HMS Cambridge
, to the east of Plymouth. In 2008 and 2009 work commenced in stages on 4 new accommodation blocks and by Jun 2010 this had been completed.
Against a background of the Oct 2010 Strategic Defence and Security Review, with a smaller Royal Navy to accept its output, the annual intake has halved to around 1100 in 2011. With a similar knock on to officer training at
BRNC Dartmouth
the UK MoD has already begun denying that the two sites will merge.

A land based installation of the Rolls Royce Heavy Replenishment at Sea (HRAS) system for rapid dry store transfer to the
Queen Elizabeth
class carriers has been operating since 2014, to train personnel and prove procedures.

Years
Rotary Wing Aircraft Unit
bold : Current Model
normal: Unit no longer at this base
2012/
FOST
SA365 Dauphin 2 1997/





First Aid Ground Training, 15-Feb-16 : a Royal Navy decommissioned Lynx helicopter has arrived at HMS Raleigh to add realism to First Aid training
By Date
|
By Serial