Satellite and aerial maps of Nowra with nearby locations
Toggle Map
1940 to present

34° 56' 44.15'' S - 150° 32' 38.75'' E
5nm NW of Jervis Bay, New South Wales
ICAO: YSNW
IATA: NOA
Elevation: 400 feet

The site (176 km s of Sydney) was selected in 1938 to provide an advanced air defence base and a civil airfield for the surrounding area. Built and largely opened in 1940, the base was taken over by the Australian Department for Air in Jan 1941. By Sep 1941 it had been further upgraded as a result of international tension in the Pacific and it was commissioned as
RAAF
Nowra in May 1942. A war programme of improvement to the buildings was commenced and in May 1942, the UK
Fleet Air Arm
began flying from here to support its maritime operations in the south west Pacific, leaving in Mar 1946, when the base was returned to RAAF Control. A post-war decision was made in 1947 to form the
RAN
Fleet Air Arm and to retain the base as a headquarters and operations establishment. On 31 Aug 1948, it commissioned as RANAS Nowra (
HMAS Albatross
).

Following the building of the control tower in 1950, significant development has occurred here over the years. As well as a significant RAN presence, the base is home to a small RAAF contingent, the
Australian Army
Parachute Training School (from 1986), an
RNZAF
unit and the joint ANZAC Squadron. The base is situated within easy reach of the Fleet exercise area off Jervis Bay and its associated ranges. The base is also home to
Australia's Museum of Flight
.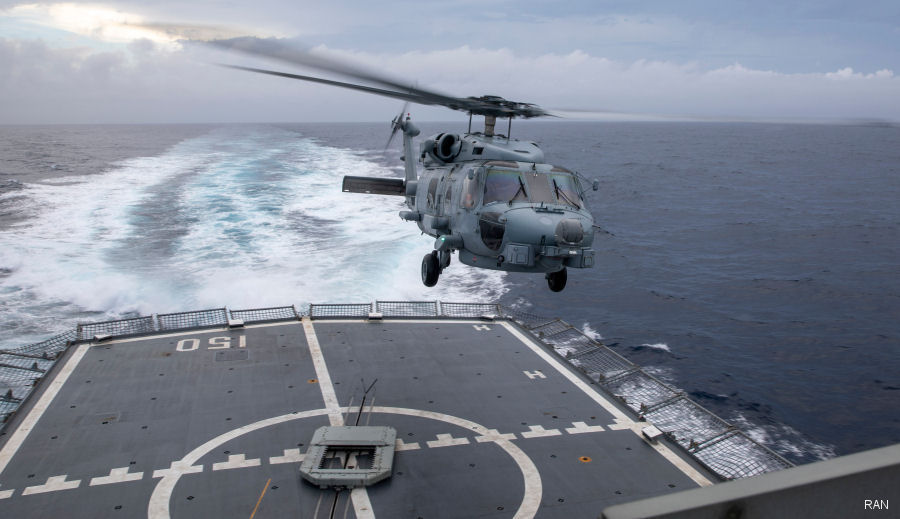 Support Items for Australian MH-60R Seahawks, 24-Oct-22 : #Seahawks Lockheed Martin awarded a $162M possible foreign military sale (FMS) for non Major Defense Equipment (MDE) for the Royal Australian Navy MH-60R Seahawk helicopters
Twelve More MH-60R Seahawks for Australia, 21-Sep-22 : #Seahawks As part of SEA 9100 Phase 1 (Improved Embarked Logistics Support Helicopter Capability), the Royal Australian Navy (RAN) will receive 12 new Sikorsky MH-60R Seahawks helicopters in 2025/2026 to replace the MRH90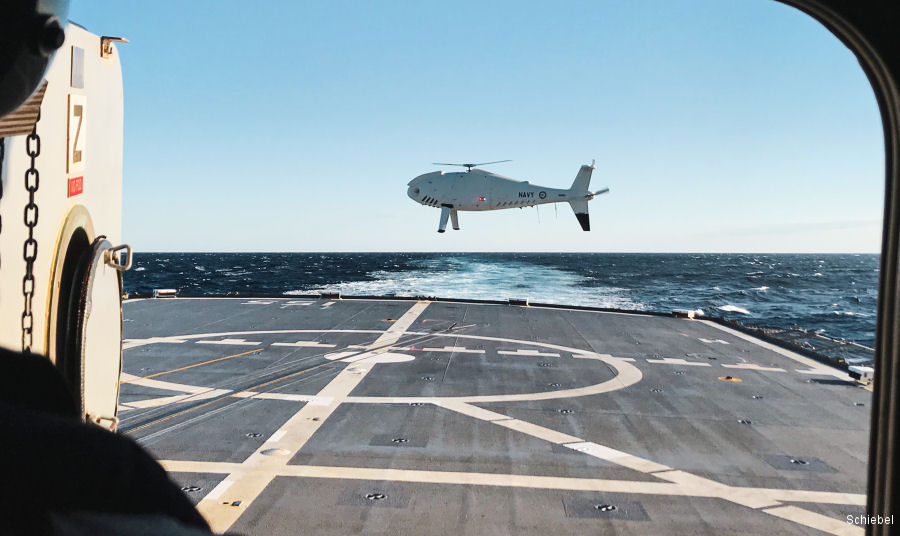 Australia Selects S-100 Camcopter, 06-May-22 : #drones As part of the Royal Australian Navy Sea 129 Phase 5 program Schiebel in partnership with Raytheon will deliver an undisclosed number of S-100 Camcopter drones as shipborne VTOL aircraft. The RAN is already operating three of them since 2018
25-Jan-21 - All-Female Crew for Australian Seahawk #women
12-Nov-20 - DASA Training Certification for Sikorsky Australia #MTO
09-Mar-20 - Heavy Fuel Engine for Australian Camcopter Drone #drones
16-May-19 - Australia' Helicopter Training System Achieved IOC #HATS
01-Nov-18 - Royal Australian Navy New Helicopter Simulator #Pilots
31-Oct-18 - RAN 822X Squadron Commissioned with Drones #822Squadron
01-Dec-17 - Royal Australian Navy Retires S-70B-2 and AS350
04-Jul-17 - HATS Training Simulator at Nowra #HATS
07-May-17 - CHC AW139 for Royal Australian Navy' Nowra SAR
12-Sep-16 - Final Australian MH-60R Seahawk in Nowra


25-May-16 - Australian Navy Trained MH-60R Crews Graduate
13-Oct-15 - First Australian MH-60R Aircrew Graduates
07-Jul-15 - MH-60R Maintenance and Rear-Crew Trainers for Australia
16-Jun-15 - UAS S-100 Demonstration to Royal Australian Navy
11-Jun-15 - Royal Australian Navy Commissions Romeo Squadron
01-Apr-15 - Royal Australian Navy MH-60R Simulators Ready
10-Dec-14 - Turbomeca to Support the Australian Trainer EC135T2
17-Nov-14 - EC135T2+ is New Australian Training System
01-Apr-14 - Australian Sea Kings shipped to UK