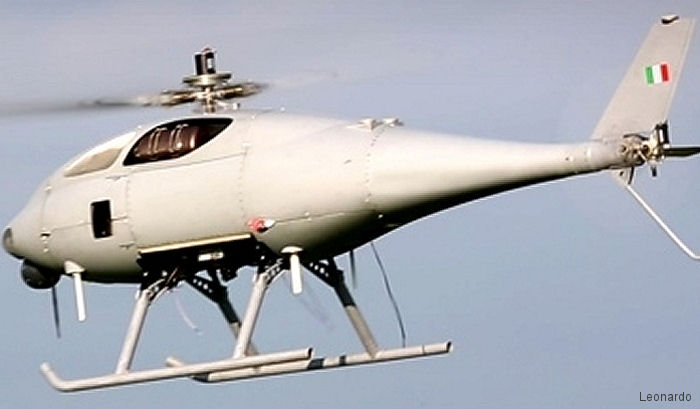 EDA OCEAN2020 Program, 12-Jan-18 : European Defence Agency (EDA)' OCEAN2020 will boost development of naval unmanned platforms. Leonardo will lead a team of 42 partner companies and defence ministries of five countries. Demo for 2019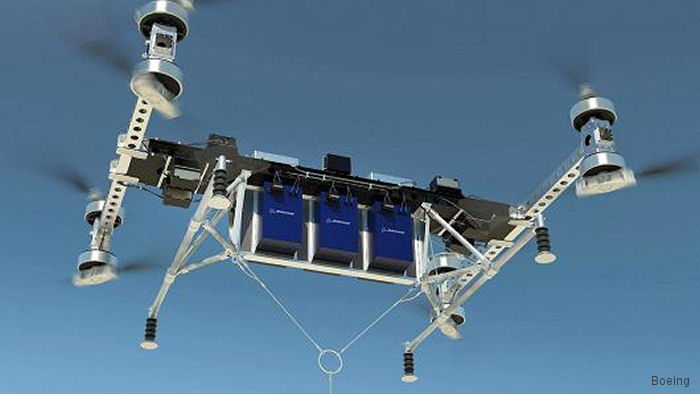 Boeing Unveils New Cargo UAV Prototype, 10-Jan-18 :

The electrical powered vertical-takeoff-and-landing drone is designed to carry up to 500 lbs / 225 Kgs. New UAV is 15 ft / 4.57 mt long and will be used as a flying test bed for future applications.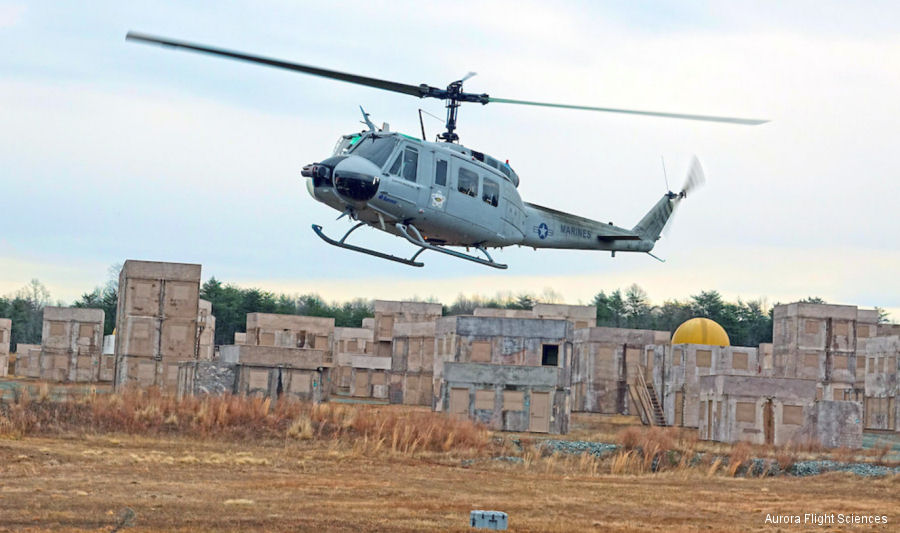 Aurora Autonomous UH-1H in Quantico, 13-Dec-17 : Aurora Flight Sciences conducted a successful demonstration at US Marine Corps base Quantico of its UH-1H optionally-piloted autonomous helicopter


16-Nov-17 - Drone Delivery to be Tested in Northern Canada
01-Nov-17 - FAA Certification for Optionally Piloted UH-1H
26-Oct-17 - VSR700 Rotary Wing UAV
25-Oct-17 - Camcopter S-100 Second User Conference
18-Oct-17 - Russian Helicopters 1.5T Tilt-Rotor by 2019
17-Oct-17 - ALEA Standards for Public Safety Drones Programs
03-Oct-17 - CityAirbus Passes Propulsion Testing Phase Helitech 2017
15-Aug-17 - HSC-23 Makes History with MQ-8B Drones
20-Jun-17 - Gabbiano TS Ultra Light Multi Mode Radar Paris Air Show 2017
19-Jun-17 - VSR700 Demonstrator First Autonomous Flights Paris Air Show 2017
26-May-17 - Unmanned Tilt-Rotor at HeliRussia 2017
23-May-17 - Camcopter Completes Flight Trials in Norway
10-May-17 - Commercial Drone Services Start-Up "Airbus Aerial"


24-Apr-17 - A³ by Airbus and AUVSI Cooperation
17-Apr-17 - Airbus Selects SingPost as Skyways Logistics Partner Rotorcraft Asia 2017
01-Apr-17 - Vahana by A³
01-Apr-17 - Skyways by A³
01-Apr-17 - CityAirbus by A³
30-Mar-17 - Patria and Schiebel Working on MUM-T Operations
29-Mar-17 - Panther Drone First Aerial Package Delivery
27-Mar-17 - Drone Interoperability Test with Bristow S-92
23-Mar-17 - FAA's Waivers for Small Drones
10-Mar-17 - Canadian First BVLOS Pipeline and Powerline Inspections
01-Mar-17 - Leonardo AESA Radar for Schiebel Camcopter S-100
28-Feb-17 - Leonardo and UK MoD Launch Phase 2 of RWUAS
24-Feb-17 - Aeryon SkyRanger First BVLOS Flight
23-Jan-17 - AUVSI Launches Remote Pilots Council
05-Jan-17 - Yuneec Unveils H520 Drone
27-Dec-16 - Leonardo Acquires Sistemi Dinamici SpA
22-Nov-16 - Camcopter S-100 Concludes Mediterranean Mission
16-Nov-16 - SW-4 Solo at Unmanned Warrior 2016
15-Nov-16 - Optionally-Piloted Helicopters Firefighting


14-Nov-16 - Cormorant UAV First Fully Autonomous Flight


10-Nov-16 - Aurora to Develop Unmanned UH-1H
20-Oct-16 - French Navy's Future VTOL Drone
18-Oct-16 - MQ-8C Fire Scout with Leonardo AESA Radar
03-Oct-16 - L-3 MX-8 Electro-Optical/Infrared Imaging System
26-Sep-16 - Schiebel And Diehl Defence Teaming Agreement
22-Sep-16 - Bell Unveils V-247 Vigilant Tiltrotor
22-Sep-16 - Korean Air / Boeing Unmanned 500MD
21-Sep-16 - Safran Signs MoU With Urban Aeronautics
02-Sep-16 - CybAero Delivers Three Drones to Chinese Customs
26-Aug-16 - US Army Testing Drone for Battlefield Intelligence
08-Aug-16 - Era Launches Drones Service with Total Safery
02-Aug-16 - CybAero Joins Commercial Drone Alliance
13-Jul-16 - Drone Aviation Introduces Bolt
27-May-16 - Aurora AACUS Test New Capabilities
26-May-16 - EHang Drone to Begin Testing in Nevada
19-May-16 - Yamaha RMAX Debuts Spray Service
10-May-16 - US Army Aviation Seeking Runway-Independent UAS
04-May-16 - EASA Task Force to Assess Drones Aircraft Risk Collision
03-May-16 - CybAero Drone Test From Visby Class Corvette
21-Apr-16 - New Thermal Imaging Solutions for Firefighters
18-Apr-16 - Drones Added to the Alaska Aviation Task Force
18-Apr-16 - Aurora Flies Subscale X-Plane Aircraft


15-Apr-16 - Australia Post Testing Drones
08-Apr-16 - Surrey and Sussex Police Acquired Drones
30-Mar-16 - Brazilian FT Sistemas FT-200FH Umanned Helicopter FIDAE 2016
21-Mar-16 - DARPA Awarded Next Gen US Navy UAV Demonstrator
03-Mar-16 - DARPA Selects Aurora to Build VTOL X-Plane


17-Feb-16 - Tiltrotor by Russian Helicopters Makes its First Flight
17-Feb-16 - Airbus Helicopters to Test UAS in Singapore Singapore Airshow 2016
09-Feb-16 - Bristow Enters UAV Services Business
08-Feb-16 - Camcopter S-100 UAV Demonstration in Netherlands


21-Jan-16 - Drones Driving Force in Future Logistic Operations
20-Jan-16 - UGV/UAV Joint Autonomy demonstration for US Army


13-Jan-16 - Saab / AeroVironment Qube UAV for Swedish Police


30-Dec-15 - AirMule Completed its First Autonomous Untethered Flight
18-Dec-15 - EASA Paves the Way for Safe Use of Drones in Europe


14-Dec-15 - FAA Announces Small Drones Registration Rule


02-Dec-15 - K-MAX Collaborative Unmanned Systems Demonstration
20-Nov-15 - Volocopter VC200 First Flight


12-Oct-15 - Rockwell Collins Real Time Video for US Army
15-Sep-15 - UK MoD SW-4 RWUAS Demonstration
10-Sep-15 - DARPA Robotic Landing Gear


09-Sep-15 - Stampede Agricultural Drone Video System
09-Sep-15 - Aerial Power Line Inspection : Helicopter vs UAV
01-Sep-15 - UK Cumbria Police to Use UAVs


11-Aug-15 - WSU Unmanned Helicopter Yamaha RMAX UAV


15-Jul-15 - Search and Rescue ICARUS Ready for Use in 2016


03-Jun-15 - CybAero Successfull Acceptance Tests in China
08-May-15 - Mississippi State University Center of Excellence for UAS
04-May-15 - Indago UAV Used in Cyclone Pam Disaster Relief Efforts
27-Apr-15 - Indago Quad Rotor Drone in Public Safety Missions
05-Apr-15 - CybAero Demonstration Flights in China a Success


15-Feb-15 - FAA Propose New Rules for Small UAS
03-Feb-15 - FAA Grants Eight More UAS Exemptions
08-May-14 - Northrop Grumman / Yamaha presents Rotary-Bat
17-Apr-14 - AACUS


26-Nov-13 - HeloAir to Recover Drones for US Navy
10-Apr-12 - US Navy investigates unmanned helicopter mishaps
28-Feb-12 - Robot Quadrotors Perform James Bond Theme


09-Oct-06 - Boeing Manned/Unmanned Helicopter First Flight
12-Jul-06 - Boeing Little Bird Flies Unmanned for First Time
08-Mar-04 - Bell Eagle Eye in USCG Deepwater Program