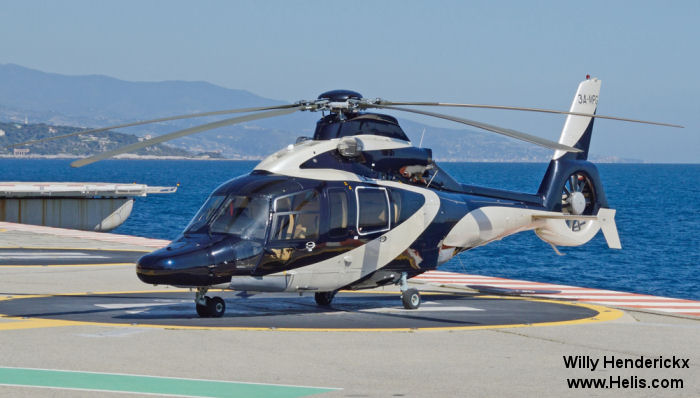 Built by Eurocopter France, was the succeesor of the
EC155B
and is powered by two Turbomeca Arriel 2C2 FADEC engines. Maximum take-off weight (MTOW) increased by 120 kg to 4,920 kg and with 10% extra engine power.
Eurocopter Southeast Asia
was the first subsidiary certified to upgrade 155B airframes starting with those from
SSFC
.
From 2014 produced by
Airbus Helicopters
Corporate Helicopters receives new EC155, 22-Oct-13 : Las Vegas, Nevada – Corporate Helicopters of San Diego has taken delivery of a new, customized EC155 helicopter equipped for Corporate and VIP transportation missions. The luxurious and powerful EC155 was purchased from American Eurocopter, which continues to provide a range of state of the art helicopters for business transportation.
NORTH FDS receives FAA STC approval for EC.155 LARS, 24-Apr-12 : ARLINGTON, TX - NORTH Flight Data Systems, LLC( NORTH FDS) is pleased to announce they have received FAA Supplemental Type Certificate (STC) approval for the installation of their Lightweight Aircraft Recording (LARS) system in the Eurocopter EC155 series helicopters.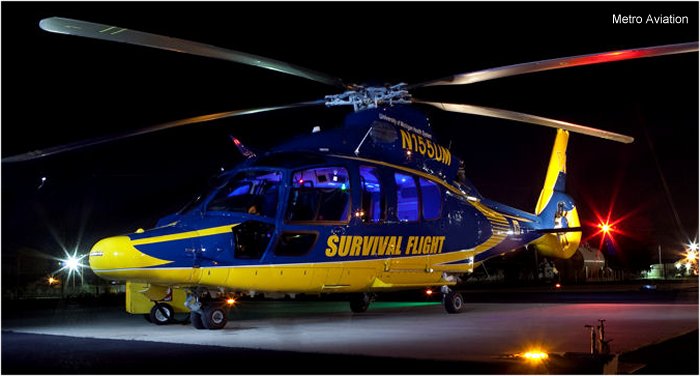 Metro Aviation receives FAA Supplemental Type Certificate for EC155B1, 10-Jan-12 : Metro Aviation, Inc. received an FAA Supplemental Type Certificate SR09591RC (STC) for a complete Emergency Medical System kit and associated options for the Eurocopter EC155B1. This is the first EC155B1 to be equipped with an EMS package in the United States. Metro Aviation, Inc. received approval late December after five months of completing the STC program.
Royal Thai Police signs contract for 3 EC155, 08-Sep-09 : Hong Kong, Eurocopter, the world's leading helicopter manufacturer is pleased to announce the contract signature of 3 EC155 Dauphin helicopters with the Royal Thai Police (RTP) at Asian Aerospace in Hong Kong. These 3 new medium weight twin-engine helicopters will be delivered in 2011 and will be dedicated to VVIP missions.
List of Operators of Eurocopter EC155B1
From
Organisation with model EC155B1
1992
1997
2000
2001
2002
2003
2005
2006
2007
2010
2011
Unknown!
Help


Construction Numbers on database of EC155B1