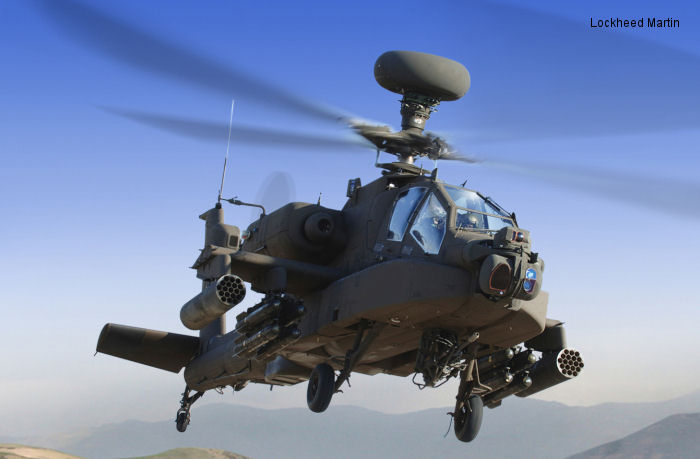 Support contract for Saudi Arabia Apaches, 11-Feb-14 : Orlando, Fla. – Lockheed Martin received a $22 million contract from the U.S. Army to provide Modernized Target Acquisition Designation Sight/Pilot Night Vision Sensor (M-TADS/PNVS) Special Repair Activities for the Royal Saudi Land Forces Aviation Command's Apache attack helicopters.
US Army retires last A model Apache, 17-Jul-12 : By Sofia Bledsoe, Program Executive Office Aviation - REDSTONE ARSENAL, Ala. - It was a proud, historic and emotional moment for the Soldiers of the Texas Army National Guard's 1st Battalion, 149th Aviation Regiment (Attack/Reconnaissance) as the last AH-64A Apache helicopter, aircraft 451, was "retired" from the Army and handed over to the Project Office for Apache Helicopters during a ceremony on Ellington Field Joint Reserve Base in Houston, July 15. The event was hosted by the battalion as it was the unit that had the last A-model Apache in its fleet.
Egypt to Upgrade 35 Apaches to AH-64D Configuration, 25-Sep-00 : MESA, Ariz. -- The government of Egypt has signed a letter of offer and acceptance with the United States Department of Defense calling for 35 of Egypt's AH-64A Apache helicopters to be remanufactured into the AH-64D configuration.
List of Operators of McDonnell Douglas AH-64A Apache
| | |
| --- | --- |
| From | Organisation with model AH-64A Apache |
| 1983 | |
| 1990 | |
| 1992 | |
| 1995 | |
| 1998 | |
Construction Numbers on database of AH-64A Apache