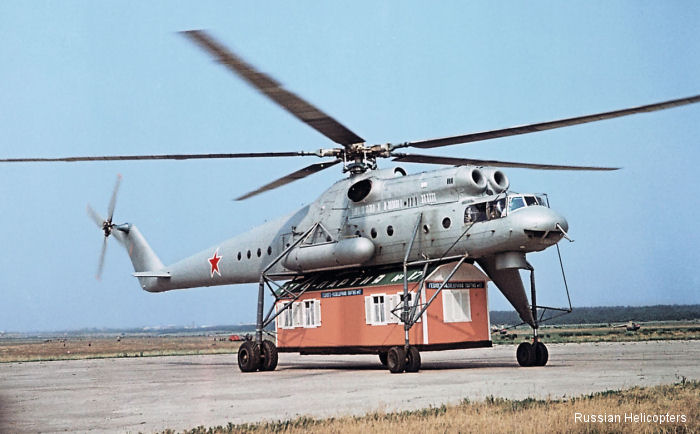 50 years of serial produced Mi-10 maiden flight, 18-Sep-14 : Rostov-on-Don - In September 2014, Rostvertol, a Russian Helicopters company (a subsidiary of Oboronprom, part of State Corporation Rostec), celebrates the 50th anniversary of the serial produced Mi-10's maiden flight.
Model
Year
History
mi-10k
Short legged version optimized for slung load duties. It also has a ventral gondola for a second pilot. 15 built (plus 2 conversion) between 197 ...





List of Operators of Mil Mi-10 Harke
From
Organisation with model Mi-10 Harke
1991






Construction Numbers on database of Mi-10 Harke or its versions


C/N
Built as
Year
History
01-02
CCCP-04102 : 2nd prototype. To Paris Air Show Jun 1965
Visited London Gatwick in Mar 1967

2161
mi-10k
RA-04119 : Komiaviatrans Mi-10k type

2266
mi-10k
RA-04124 : Komiaviatrans Mi-10k type

2294
mi-10k
RA-04130 : Skytech in 1994

4 C/N.