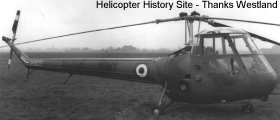 The Skeeter was a light observation and training helicopter produced by Saunders-Roe of Cowes and Southampton. An overly long period of development and lack of engagement with end-users plagued this essentially simple helicopter. It was designed around 1945 at Cierva, initally as the W.14 (with a Jameson 106hp FF-1 engine) then named the Skeeter 1, which first flew on 8 Oct 1948 with a triangular section tail boom. The Skeeter 2 was powered by a de Havilland 145hp Gipsy Major 10 and had a more conventional, circular tail cross-section. It first flew on 15 Oct 1949 but suffered so badly from ground resonance, the single model eventually disintegrated. Enough promise was shown for the UK Ministry of Supply (which procured
British Army
aircraft at the time) to order two Skeeter 3 airframes - further improved by the 180hp Blackburn Bombardier engine, as a development batch. SARO took over Cierva in Jan 1951 but even this injection of talent (and capital) could not prevent the British Army rejecting the Skeeter 3B, nor the
Royal Navy
rejecting the Skeeter 4. Less resonance and more power was required, apparently being met by the Skeeter 5 and then by 1956, the Skeeter 6 (with the 200hp Gipsy Major 201) was available.

The first production unit was the Skeeter 6A for the British Army (as the AOP.10) and the 6B for the RAF (as the dual T.11 trainer). Both had all metal, stressed skins with wooden main blades. The Skeeter finally entered Army Air Corps service in Oct 1958 for reconnaissance and Air OP duties.
Westland
took over SARO in 1960 and the development of a turbine powered Skeeter with the Blackburn Turmo 603 was abandoned, although the experience was carried forward into the
Wasp
/
Scout
programme. After this rationalisation, a project was abandoned in March 1960 to boost its performance with a de Havilland supercharger, in hot and high environments. There were also lift enhancement trials of the Napier Rocket Booster, (a hydrogen peroxide tank mounted in a small tank above the rotor head and nozzles at the rotor tips for the expanding gases, without increasing rotor speed) for tropical operations.

The final variant was the Skeeter 8, which was basically a civilianisation of the Skeeter 7 (essentially the Army Air Corps AOP.12 version) for commercial operations. 3 were built for UK Certificate of Airworthiness tests, but no civil orders were placed and Skeeter production came to an end in 1960.

In Jul 1961, West
Germany
sold 10 non-airworthy Skeeters to the
Portuguese Air Force
but
Westland
subsequently abandoned a project to restore them to flying state.

Model
Year
History
saro p.531
Development of the Westland Wasp / Scout family was the first general purpose light helicopter project that was completely British. Initiated by ...
The P.531 O/N version was also known by SARO as the H.AS/194D during its shipboard trials, which included suction-cup fittings to undercarriage l ...

Skeeter 6B
1956
The Skeeter 6B was a dual control variant of the Skeeter 6A. Known as Skeeter T.11 in RAF service. Only 1 built in 1956 as part of an evaluation ...

Westland scout
1960
Developed from the SARO P.531, Westland built two more P.531/2 prototypes at Eastleigh with double the engine power (one with a 1050shp Bristol S ...

List of Operators of Saunders Roe skeeter
| | |
| --- | --- |
| From | Organisation with model skeeter |
| 1950 | |
| 1952 | |
| 1958 | |
| 1980 | |
Construction Numbers on database of skeeter or its versions


C/N
Built as
Year
History
S2/3012
Skeeter 6B
1956
XK479 : built as T.11, ff 2 Jul 1956, dd 18 Dec 1956, CFS 1957,+

S2/5061
PC+117 : PF+156 to Portugal, 06.61 Alverca scrapped

S2/5062
PC+118 : PF+157 to Portugal, 06.61 Alverca scrapped

S2/5063
PC+119 : PF+158 to Portugal, 06.61 Alverca scrapped

S2/5065
1958
SC+501 : till 1959, 1961 to Portugal, 06.61 Alverca scrapped

S2/5070
1958
SC+502 : till 1959, 1961 to Portugal, 06.61 Alverca scrapped

S2/5073
PC+120 : PF+159 to Portugal, 06.61 Alverca scrapped

S2/5074
1958
XL762 : AOP.12. Appeared at 1958 SBAC Farnborough Air Show, dd +


XL762

Museum of Flight, East Fortune : Acquired by Museum of Flight, 1975. Still present 2013+


XL762

: 28sep14 pictured preserved at the National Museum of Fl+

s2/5076
1958
XL764 : dd Sep 1958 to Eastleigh and on to Army Air Corps at Mi+

S2/5077
PC+121 : PF+160 to Portugal, 06.61 Alverca scrapped

S2/5082
PC+122 : PF+155 to Portugal, 06.61 Alverca scrapped

S2/5083
1958
SC+503 : till 1959, 1961 to Portugal, 06.61 Alverca scrapped

S2/5092
1958
SC+504 : till 1959, 1961 to Portugal, 06.61 Alverca scrapped

S2/5094
XL809 : AAC Skeeter AOP.12 unk to PH-SRE
PH-SRE : ex XL809 unk to PH-HOF
PH-HOF : ex PH-SRE 03may84 to G-BLIX
G-BLIX :

S2/5095
XL810 : while with 9 Flight in Germany, hit power cables, cras+

S2/5096
1959
XL811 : to AAC. 651 Sq, 652 Sq, 17 Flt., Air Troop 9/12 Lancers+


XL811

: to Northern Aircraft Preservation Society Dec 1968
to Historic Aircraft Museum, Southend 1972 until c May +
to International Helicopter Museum, W-s-M Sep 1992. Sti+

S2/5097
XL812 : AAC Skeeter AOP12 d/d 13mar59; AAC Historic Flight; to +
G-SARO : Jul78-Nov00; From Nov00-
Reg Canx by CAA 14apr10

S2/5099
XL814 : AAC Skeeter AOP12 d/d 06mar59; AAC Historic Flight; 201+
Jun79 at Greenham Common

S2/5107
XM553 : Skeeter AOP.12; preserved at Yorkshire Air Museum, Eng+
G-AWSV : ex XM553

S2/5119
1958
XM564 : dd Dec 1959 to Army Air Corps. 652 Sq, CFS, 12 Flt, 652+


XM564

: 25jun16 at Bovington Tank Museum, Vehicle Conservation +

S2/7147
1960
XN341 : dd Feb 1960 to AAC. 651 Sq, Air Troop 3 RTR, soc c 1970


XN341

: arr 4 SoTT as 8022M at St Athan by Dec 1971, until sold+


XN341

: To Stondon Transport Museum, Lower Stondon, until it cl+
13/21 Sep15 for sale on Ebay from seller in Shrewsbury,+
Stands on a roof of a dumpstore in Maasbracht, Holland +

S2/7157
1960
XN351 : 651 Sq, 652 Sq, 3 RTR Air Troop, Wroughton, Shuttlewort+


XN351

Torbay Aircraft Museum : on loan to Torbay Aircraft Museum May 1971
to Wales Aircraft Museum 1980, to G-BKSC reg 13 Dec 199+

22 C/N.