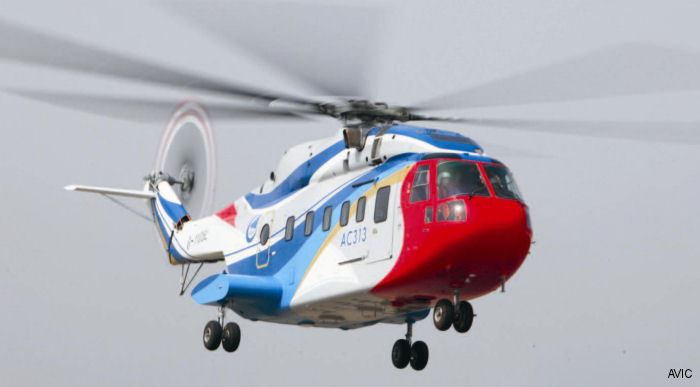 First known as Changhe Z-8F-100, the AC313 is a commercial transport capable for 27 passengers with a maximum range of 900 kilometers. Powered by 3 Pratt & Whitney Canada PT6B-67A engines (1,200 shp each), has composite main rotor blades, a modern avionics suite and a maximum takeoff weight of 13.8 tonnes. Performed first flight in Jingdezhen City on March 18, 2010 and received the Civil Aviation Administration of China (CAAC) certification on January 4, 2012. Flying Dragon Special Aviation announced as the launch customer.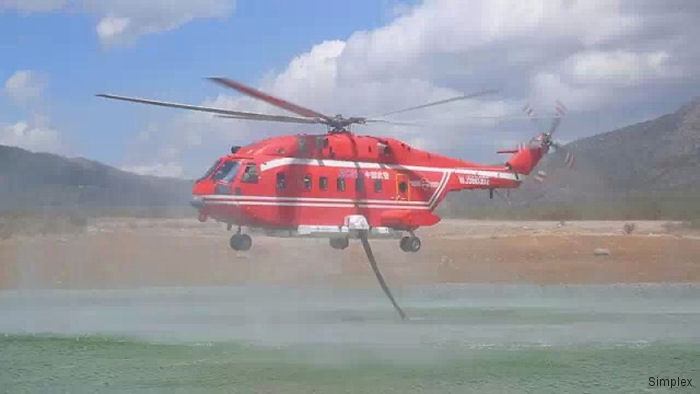 Simplex SkyCannon for Chinese AC313, 11-May-17 : Simplex Aerospace received a new order for its firefighting system Simplex SkyCannon, named Model 580, for the AVIC AC313 chinese helicopter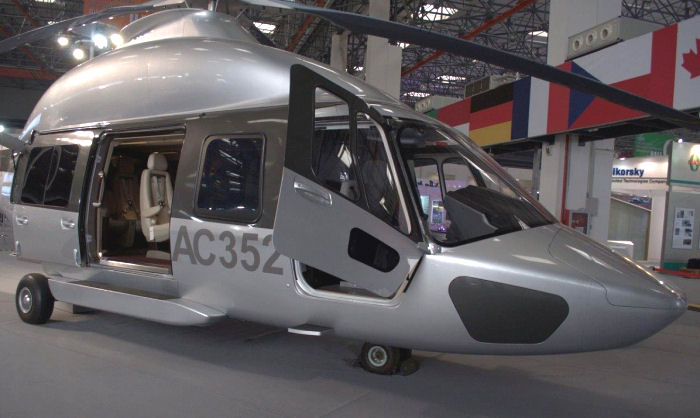 Monitor Equipment for Chinese AC313 and AC352, 26-Oct-16 : Meggitt Sensing Systems awarded $48 million contract to supply Health and Usage Monitoring Systems (HUMS) for Chinese Avicopter AC313/SJ (firefighter Super Frelon) and AC352 (EC175) helicopters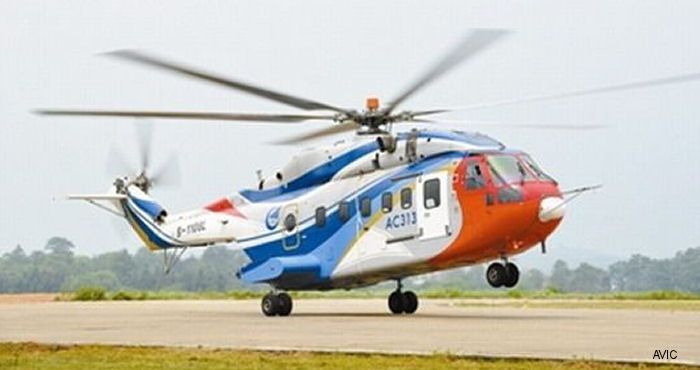 Chinese AC313 with GE Aviation HUMS System, 08-Jan-15 : GE Aviation has been selected by AVICopter to provide the Health & Usage Monitoring System (HUMS) for their AC313 (Super Frelon) helicopter fleet in China.
Model
Year
History
CAIC Z-18
2011
Based on the Avicopter AC313 design, has a modified lowered fuselage and is powered by improved WZ-6C turboshaft with rotor blade with composite ...





List of Operators of AVIC AC313
From
Organisation with model AC313






Construction Numbers on database of AC313 or its versions


C/N
Built as
Year
History
01
2010
B-1108L : Avicopter AC313 prototype f/f 18mar10; Flew about 30mi+





1 C/N.