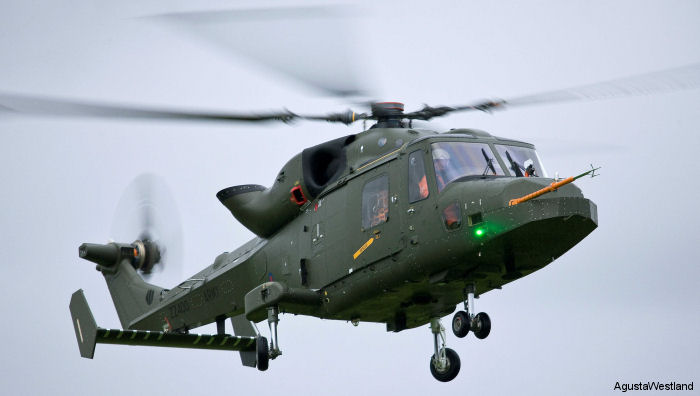 The AW159 is a twin engined, naval and utility, multi role helicopter, initially developed as a candidate for the UK
Future Lynx
competition.
It has a more stealthy, angular profile and lacks the starboard side, horizontal stabilizer of the Lynx - replacing it by a horizontal stablising tailplane with small vertical fins mounted beneath the rear fuselage unit. The AW159 retains the tricycle landing gear arrangement with steerable nosewheel and long-stroke main undercarriage.
The AW159 weighs in around 6 tonnes and is powered by two LHTEC CTS800 engines which should deliver a superior hot and high performance over existing Lynx models.
It was selected in April 2005 as the British Armys Battlefield Reconnaissance Helicopter (BRH) and the Royal Navys replacement Surface Combatant Maritime Rotorcraft (SCMR). Following a June 2006 award of contract by the UK MoD, manufacturing began in autumn 2007.

The new Lynx first flew on November 12, 2009 and is known in British military service as the
Lynx Wildcat
.
62nd and final Wildcat for UK MoD delivered on December 2016.
For AW159 variants see
:
Army Air Corps:
Wildcat AH.1
Fleet Air Arm:
Wildcat HMA.2
South Korea
Philippines
Bangladesh
As of 2019, over 70 have been delivered and logged more than 50,000 flight hours
List of Operators of AW159
Global Distribution of AW159
| | C/N | Year | History |
| --- | --- | --- | --- |
| | 462 | 2009 | ZZ400 |
| | 463 | 2010 | ZZ401 |
| | 464 | 2010 | ZZ402 |
| | 469 | 2011 | Static |
| | 470 | 2011 | Static |