Government / military variant. Special equipment includes a hoist, NVG (Night Vision Goggle) compatible cockpit, advanced communication system, AFCS (Automatic Flight Control System) with SAR modes, searchlight, fast roping and satcom. These adds to the standard options of ice detector, TCAS II (Traffic Collision Avoidance System), emergency floatation system, HTAWS (Helicopter Terrain Awareness Warning System), OPLS (Obstacle Proximity Lidar System) and an advanced HUMS (Health Usage Monitoring System),
First of Two AW169 Trainers for Italian Army, 11-Jul-20 : #delivery Italian Army received the first of two UH-169B (Leonardo AW169) trainer helicopters to be used by the 2nd Aviation Regiment at Lamezia Terme. A modified variant with skids will follow to meet the LUH requirement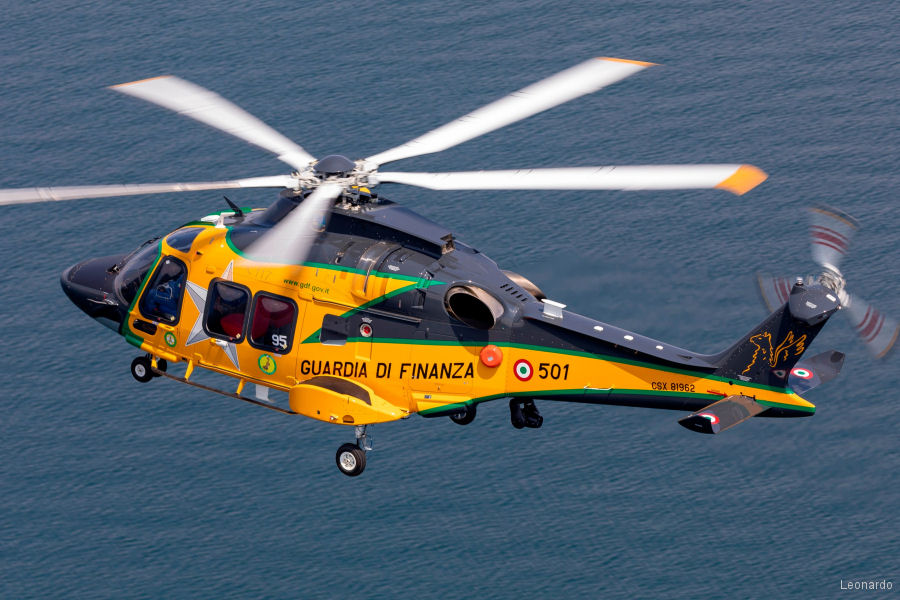 Italian Customs Received First AW169M, 14-Nov-19 : #AW169M Italian customs police, Guardia di Finanza, received the first of 22 AW169M helicopters ordered just one year ago. Last one scheduled to be delivered in 2014 under a 280 million euros contract
Italian Guardia Di Finanza Orders 22 AW169M, 12-Nov-18 : #AW169M Italian customs police, Guardia di Finanza, orders 22 of the new variant AW169M valued € 280M to be delivered 2019-2024. Special equipped for SAR will replace current A109 and join 14 AW139
List of Operators of AgustaWestland AW169M
| | |
| --- | --- |
| From | Organisation with model AW169M |
| 2012 | |
| 2019 | |
| 2020 | |
Construction Numbers on database of AW169M


C/N
Year
History
69095
2019
CSX81962 : at Vergiate
MM81962 : GF-501; delivery in official ceremony first of 22
VOLPE44

Callsign VOLPE00
Callsign VOLPE501

69104
2019
MM81965 : GF-502
Callsign VOLPE00

69107
2019
MM81966 : GF-503

69109
2019
MM81970 : GF-504


69115
CSX81977 : Leonardo pre delivery flights
MM81977 : UH-169B trainer

5 C/N.