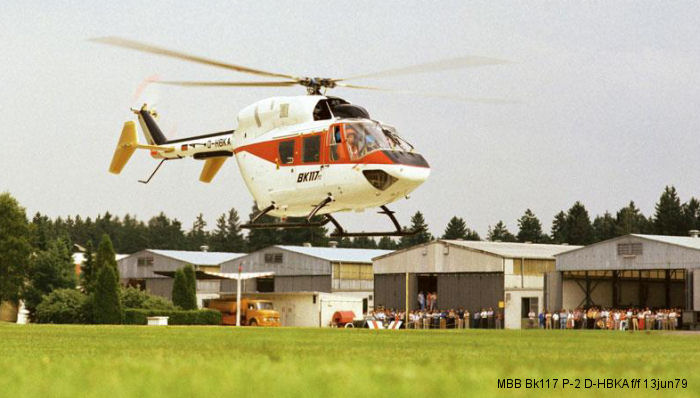 The BK.117 is a twin-engined medium utility–transport helicopter jointly developed between Messerschmitt-Bölkow-Blohm (MBB) of Germany and Kawasaki of Japan.
It first flew on June 13, 1979 and was in production until 2004 after 443 aircraft built when it was replaced by the EC.145.
On December 2012, Kawasaki delivered the 1000th airframe of the Bk117/EC145 family.
As of July 2018, over 1300 Bk117/EC145 delivered
c/n 1... :
Kawasaki Bk.117A/B/C
c/n 7000 to 7253 : MBB built Bk.117A/B (listed here)
c/n 7500 to 7554 :
Eurocopter Bk.117C1
c/n 4... :
Kawasaki Bk.117C2
( Japan EC145 )
c/n 9... :
Eurocopter EC145
( Bk.117C2 )
c/n 20... : Airbus Helicopters
Bk.117D2 / H145
and
EC645 / Bk.117D2M / H145M
c/n ... : Airbus Helicopters
Bk.117D3 / H145
Model
Year
History
KHI bk117
1979
The Bk117 was a joint development between Kawasaki and German MBB (then Eurocopter, now Airbus). Serial production began in 1983. Kawasaki pro ...

Bk117A-1
1982
Powered by two Lycoming LTS 101-650B-1 engines.

Bk117A-3
1985
Bk117A-4
1986
Bk117B-1
1987
Powered by two LTS 101-750B-1 engines

Bk117B-2
1989
Bk117B-3
1990
EC Bk117
1992
MBB became part of Eurocopter in mid 1991. Airframes are listed here it was succeeded by the EC.145

Airwork NZ BK117-850D2
2010
Developed by Airwork NZ at Ardmore, New Zealand is the MBB/Kawasaki/Eurocopter Bk117B2 with their engines replaced with Honeywell LTS 101-850B-2 ...