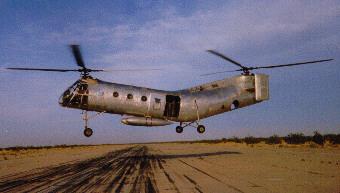 The Piasecki PD-22 (H-21) was an improved version of the HRP-2 Rescuer. It was the 4th tandem-rotor design from Piasecki. Because of its shape, covering the tail rotor transmision shaft, it was commonly called the Flying Banana. The H-21 had a fully articulated, three bladed, counter-rotating rotor system, with twin vertical fins fitted at the tail. Early versions were powered by a single Curtis-Wright R1820-103 Cyclone 1150 hp supercharged piston engine. It held a side by side crew of 2, in a dual-control cabin. Equipped with a hoist and a dorsal quick-release cargo sling, on a fixed tricycle undercarriage, it offered optional wheels, skis, or floats. The H-21 first flew on 11 Apr 1952. 707 of all versions were built, including two H-21D experimental models with a single and a twin turboshaft, replacing the piston Cyclone.

Model
Year
History
XH-21
YH-21
1950
The YH-21 / PD-22 was nicknamed the Workhorse by the US Air Force, who received 18 from Feb - Aug 1953. This was the first production batch of H ...

H-21A
1951
The US Air Force followed the YH-21 order with an order for 38 H-21As [51-1523..15269 and 52-8487..8492]. The last six H-21As were delivered to ...

H-21B
1952
Following the A model, the USAF ordered 168 H-21Bs [51-15854..15880, 52-8665..8679, 52-8681..8709, 53-4322..4402, 54-4000..4008, 55-5127..5131, a ...

H-21C
1952
B-V V42
1952
Vertol Model 42A. Related to H-21B and C models. The customer was Rick Helicopters of Canada, 10 were delivered; they were Commercial H-21 conv ...

B-V V43
1956
Vertol 43: Customers were France and Germany, with 139 delivered between May 1956 to May 1960. They are listed as a utility model, for both comm ...

H-21D
1957
Two H-21B used for engine test, 1958-1960. Piston engine replaced by either one or two gas turbine engine of two different marks. Both later re ...

B-V V44
1957
Civil utility version of H-21B/C for general use. Certified for both civil & military use. Three sub models: V-44A/B/C depending on engine, avio ...

List of Operators of Piasecki H-21
From
Organisation with model H-21
1952
1954
1955
1956
Unknown!
Help


Construction Numbers on database of H-21 or its versions