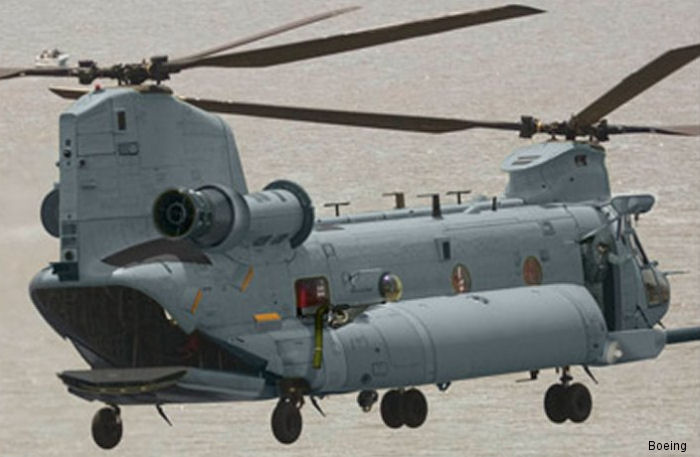 The HH-47, a variant based on the special operations aircraft
MH-47G
, was selected by the USAF as the winner of the Combat Search and Rescue (
CSAR-X
) competition on November 2006 against the
AgustaWestland HH-71
in procure of 141 aircraft to replace its ageing fleet of
HH-60G Page Hawks
. Four HH-47 prototypes were to be built with expected initial deliveries by 2012. However, in February 2007 the contract award was protested and the Government Accountability Office (GAO) ordered the CSAR-X project to be re-bid.
In 2010, the USAF has decided to buy 112 Sikorsky
UH-60M
(as
HH-60W
) instead, despite a standing requirement for a larger helicopter
Boeing Submits HH-47 CSAR Proposal to USAF, 07-Jan-08 : ST. LOUIS, MO - The Boeing Company today submitted its revised HH-47 Combat Search and Rescue (CSAR) helicopter proposal to the U.S. Air Force in response to Amendment Five of the service's original request for proposals.
Officials react to CSAR-X report, 04-May-07 : WASHINGTON (AFNEWS) -- The Government Accountability Office released its redacted report May 3 regarding the Air Force's Request for Reconsideration on the Combat Search and Rescue Replacement vehicle, the CSAR-X.
Boeing Selects Honeywell Engines for CSAR-X Program, 14-Aug-06 : ST LOUIS, MO - The Boeing Company has selected Honeywell T55-GA-714A turbo shaft engines to power the HH-47 helicopter proposed for the U.S. Air Force Combat Search and Rescue (CSAR-X) program.
List of Operators of Boeing HH-47H Chinook
From
Organisation with model HH-47H Chinook