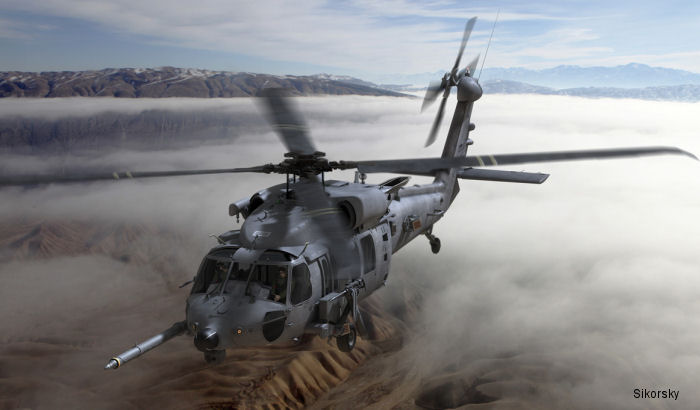 The
Combat Rescue Helicopter
, CRH, is the new
US Air Force
Combat Search and Rescue (
CSAR
) helicopter to replace the
HH-60G Pave Hawk
in the personnel recovery missions.
Based on the
UH-60M Black Hawk
was selected as the winner of the Combat Rescue Helicopter (CRH) competition in 2013. The CRH has a new Tactical Mission Kit and multiple defense systems enhancing pilots' situational awareness and improved survivability. A new fuel system nearly doubles the capacity of the internal tank on a UH-60M.
On November 2014 was officially designated the
HH-60W
Production plans calls for 4 Engineering Manufacturing Development (EMD) aircraft and 5 System Demonstration Test Articles (SDTA). USAF needs 112 helicopters to replace current HH-60G fleet.
First flight was May 17, 2019. Second EMD flew May 23, the third on August 8 and fourth on August 27.
On September 2019, the 4 CRH flew together for the first time
On February 27, 2020 was officially named
Jolly Green II
honoring Vietnam-era traditions. 108 HH-60W are planned to be acquired with the first two units to be fielded scheduled to be the 41st Rescue Squadron at Moody AFB, GA and the 512th Rescue Squadron at Kirtland AFB, New Mexico
HH-60W Jolly Green II News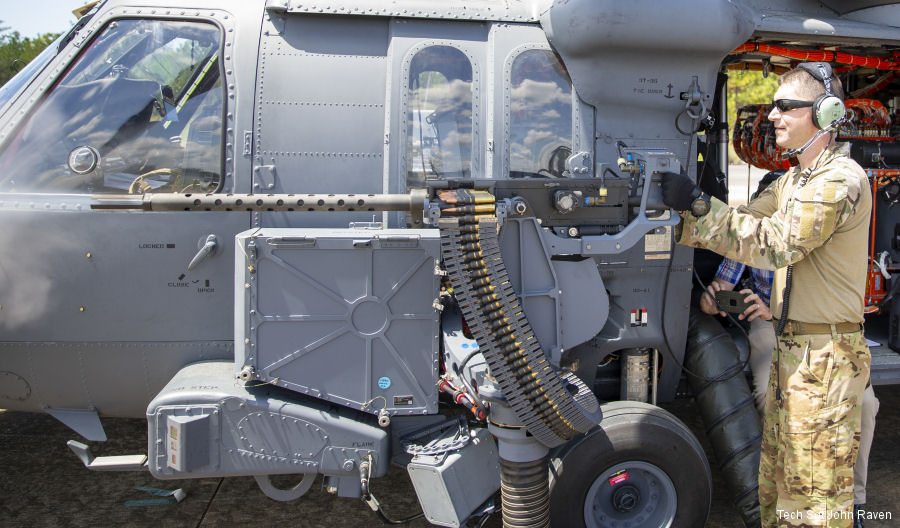 HH-60W Begins Live-Fire Testing, 22-Sep-20 : #LiveFire Future USAF combat search and rescue helicopter (CSAR), the Sikorsky HH-60W Jolly Green II, began ground live fire testing at Eglin AFB's range with GAU-2 (7.62mm M134 minigun gatling) , GAU-18 (.50 M2 Browning) and GAU-21 (.50 M3M) machine guns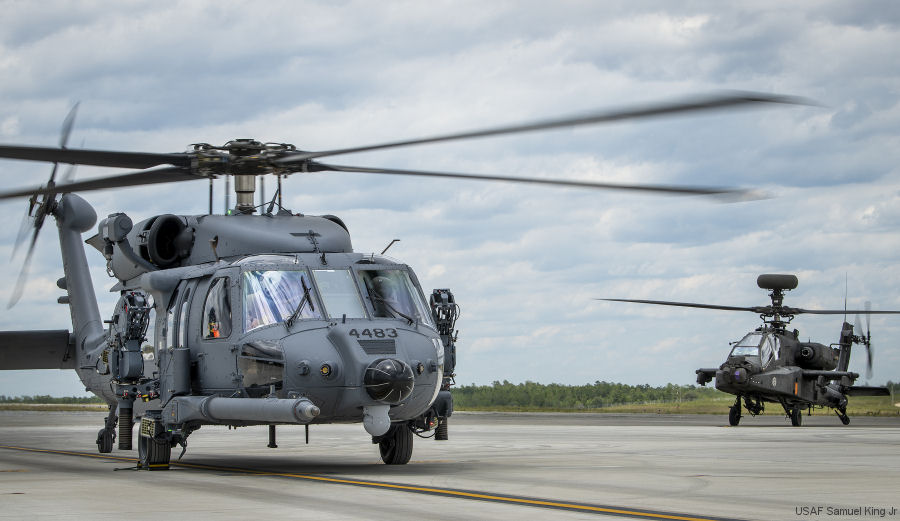 HH-60W and Apache Flying Together, 07-Jun-20 : #Apache U.S. Air Force's newest combat search and rescue (CSAR) helicopter, the Sikorsky HH-60W Jolly Green II currently under developmental test program with the 413th Flight Test Squadron flew for the first time with an Army's AH-64 Apache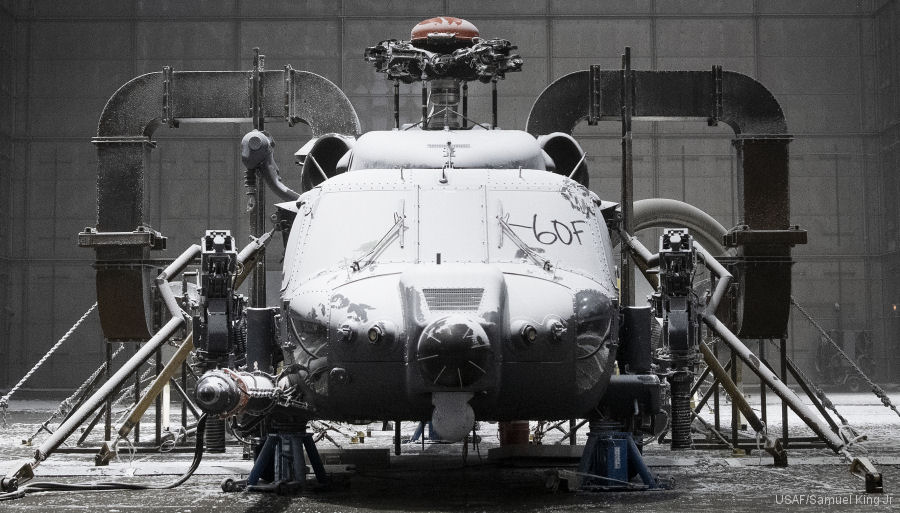 Extreme Weather Trials for HH-60W, 08-Apr-20 : #ExtremeWeather USAF new combat search and rescue (CSAR) helicopter, the HH-60W Jolly Green II completed extreme weather trials at the McKinley Climatic Lab, Eglin AFB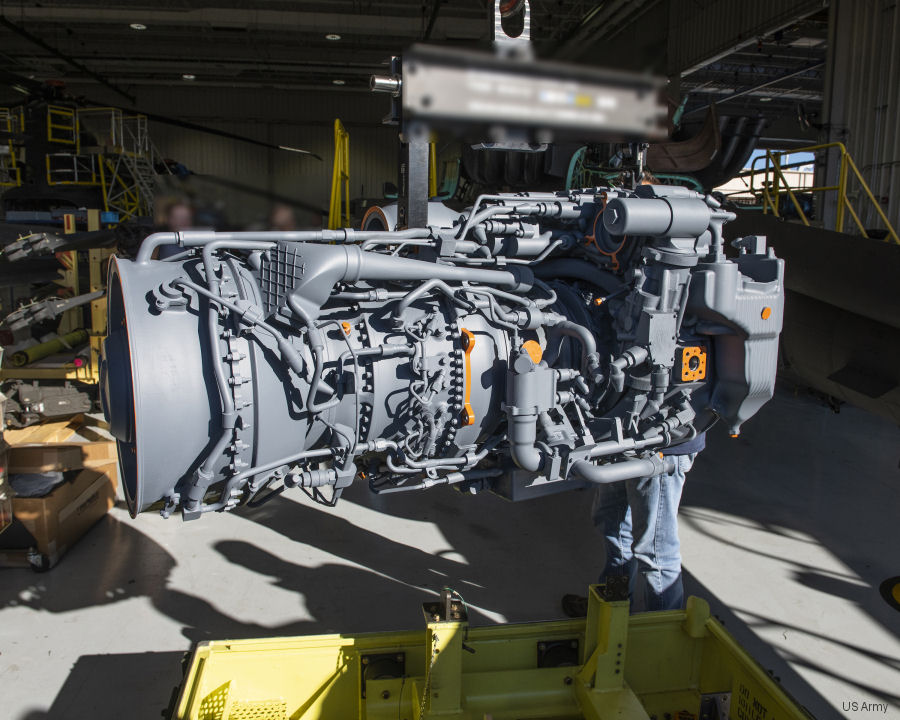 T901 Engine Tested on AH-64E Apache, 09-Mar-20 : #T901 A mockup model of US Army' next generation engine, the Improved Turbine Engine Program (ITEP) GE T901 was mounted for the first time in the AH-64E Apache at Boeing' Mesa facility
List of Operators of Sikorsky HH-60W Jolly Green II
From
Organisation with model HH-60W Jolly Green II
1982
2019




Construction Numbers on database of HH-60W Jolly Green II


| | | | |
| --- | --- | --- | --- |
| | C/N | Year | History |
| | | 2019 | ? |
| | | 2019 | 14-4481 |
| | | 2019 | ? |
| | | 2019 | ? |
| | | 2019 | ? |
| | | | ? |
6 C/N.