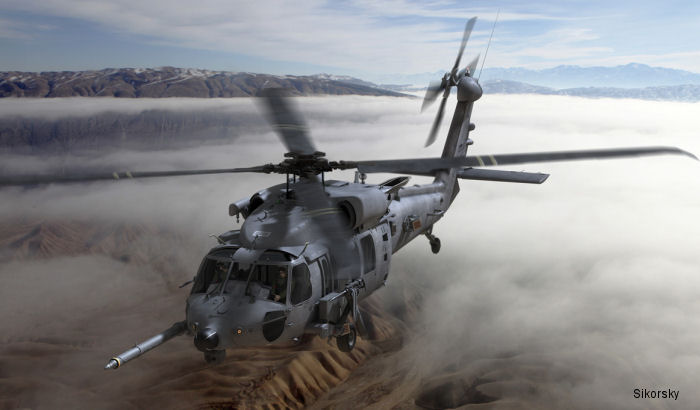 The
Combat Rescue Helicopter
, CRH, is the new
US Air Force
Combat Search and Rescue (
CSAR
) helicopter to replace the
HH-60G Pave Hawk
in the personnel recovery missions.
Based on the
UH-60M Black Hawk
was selected as the winner of the Combat Rescue Helicopter (CRH) competition in 2013. The CRH has a new Tactical Mission Kit and multiple defense systems enhancing pilots' situational awareness and improved survivability. A new fuel system nearly doubles the capacity of the internal tank on a UH-60M.
On November 2014 was officially designated the
HH-60W
Production plans calls for 4 Engineering Manufacturing Development (EMD) aircraft and 5 System Demonstration Test Articles (SDTA). USAF needs 112 helicopters to replace current HH-60G fleet.
First flight was May 17, 2019. Second EMD flew May 23, the third on August 8 and fourth on August 27.
On September 2019, the 4 CRH flew together for the first time
Initial deliveries are expected in FY19 to
Kirtland AFB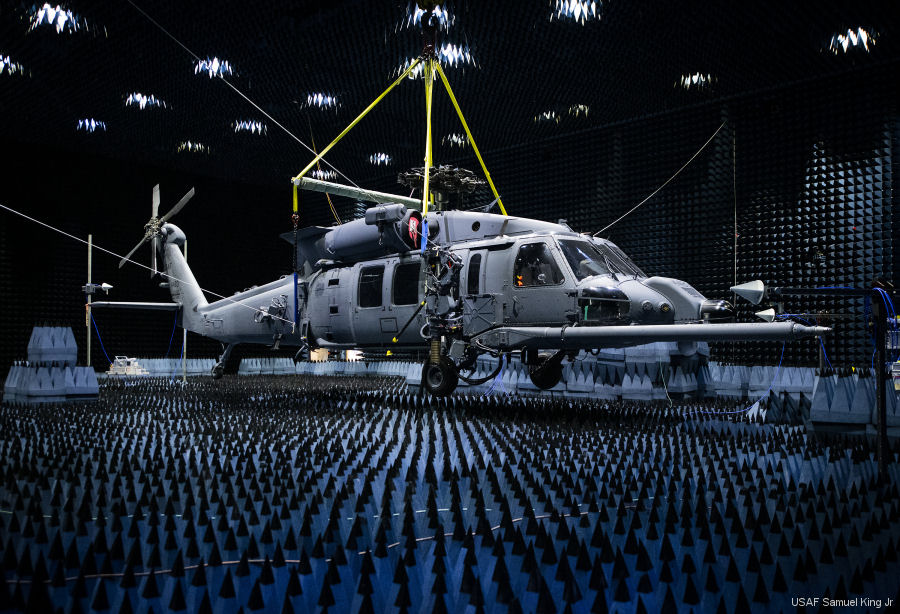 HH-60W in Anechoic Chamber for Systems Testing, 08-Jan-20 : #soundproof U.S. Air Force new Combat Search and Rescue (CSAR) helicopter, the HH-60W was hung suspended in a soundproof anechoic chamber for defense system testing by the 413th Flight Test Squadron (FTS) at Eglin AFB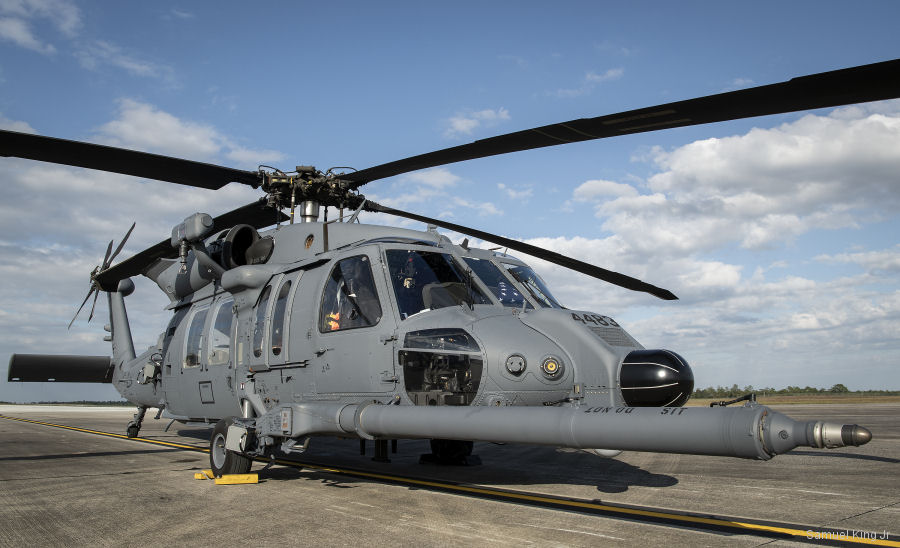 HH-60W Arrives at USAF' Test Squadron, 12-Nov-19 : #CRH After a 5-hour flight, US Air Force 413th Flight Test Squadron at Duke Field received the first two HH-60W Combat Rescue Helicopter to begin developmental testing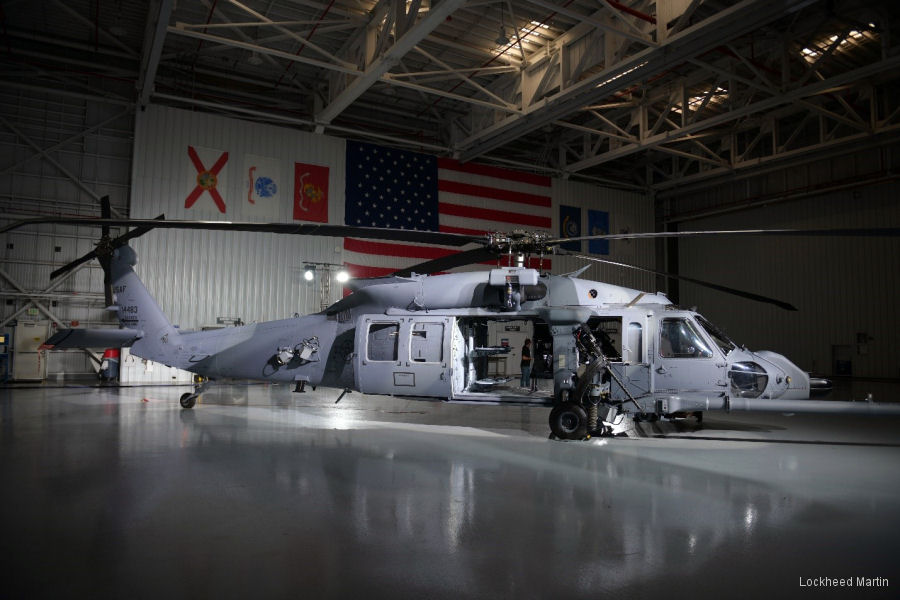 HH-60W Presentation Ceremony, 15-Oct-19 :

Sikorsky held a ceremony at its Development Flight Center in West Palm Beach, Florida to present the US Air Force' future Combat Rescue Helicopter (CRH), HH-60W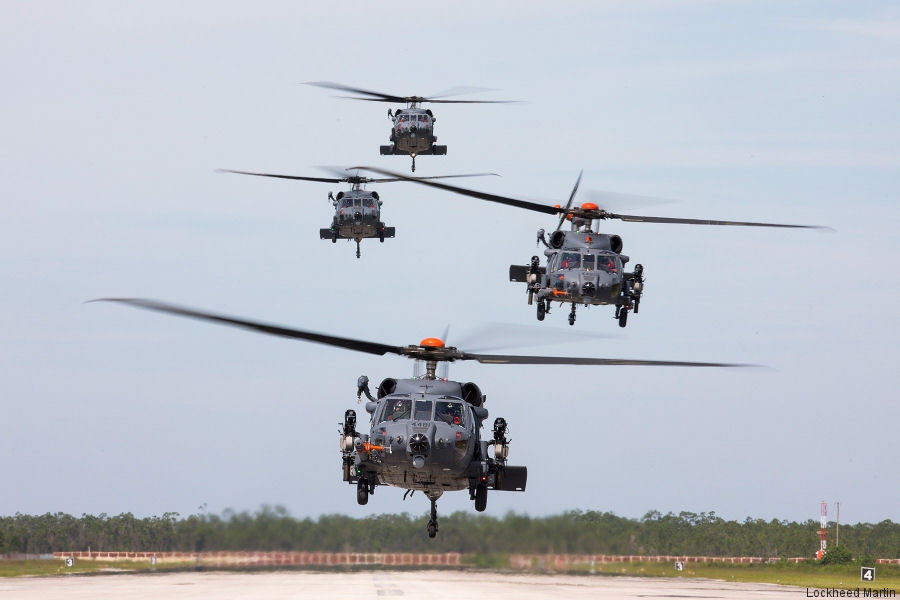 HH-60W Approved to Enter Production, 26-Sep-19 :

#CRH The HH-60W, future USAF Combat Search and Rescue (CSAR) helicopter to replace the Pave Hawk, achieved a Milestone C decision moving into low rate initial production (LRIP). Currently there are 4 prototypes flying (totaling 150 hours so far) and the first five in various stages of production at Sikorsky's Stratford facility.
Sikorsky Tactical Mission Kit Tested on the HH-60W, 25-Sep-19 : #MissionKit A new tactical mission kit which provides situational awareness, mission management and simple sensor integration was tested for the first time in the USAF' future Combat Search and Rescue (CSAR) helicopter, the Sikorsky HH-60W
List of Operators of Sikorsky HH-60W CRH
From
Organisation with model HH-60W CRH
1982
2019




Construction Numbers on database of HH-60W CRH


C/N
Year
History
2019
? : USAF CRH #2 14480 f/f 23may19

2019

?

: USAF CRH #1 14481 f/f 17may19

2019

?

: USAF CRH #3 14482 f/f 08aug19

2019

?

: USAF CRH #4 14483 f/f 27aug19; 10oct19 pictured (pic1) +
pictured (pic2) arriving at 413th FTS, Duke Field

2019

?

: USAF CRH #5 ? f/f 06sep19

5 C/N.