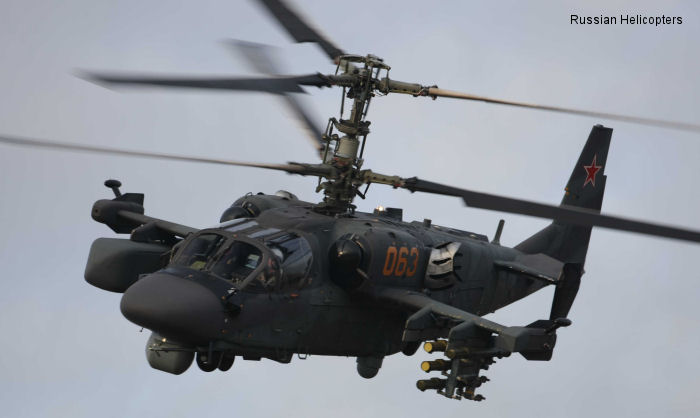 Developed by Kamov Design Bureau, the first Ka-52 was rolled out in December 1996. The helicopter made its first flight in June 1997. The serial production of Ka-52 began in 2008 at
Progress Arsenyev Aviation plant
in Primorsky Territory in the Russian Far East.
Construction number structure: example 3538264003002, please note the c/n numbers with 11 digits the year and quarter of the year is not used any more
353 factory plant
826 factory type
4 the 4th quarter of the year
0 built in year 2010
03 the third batch
002 the number built in the batch

More News ...


Derivatives & Versions of Ka-52
Model
Year
History
Ka-52K Katran

2015
2015
Naval version with folding blades and reinforced landing gear for maritime operations
Translated: Spiny Dogfish

Ka-52M

2021
2021
First announced in 2018, the Ka-52M is an upgraded version with new avionics, increased range and stronger undercarriage wheels. First contract ...



List of Operators of Ka-52
Global Distribution of Ka-52