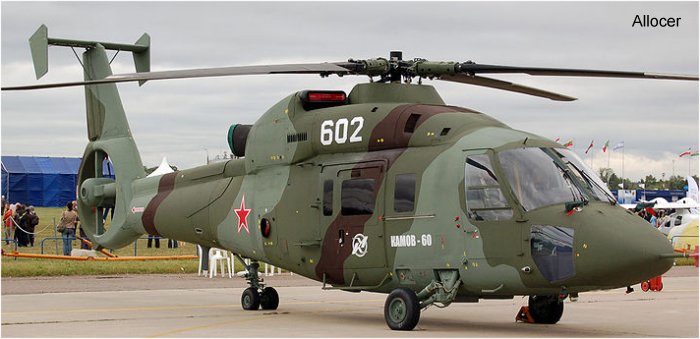 Developed as a reconnaissance helicopter and for light transport missions the Kasatka (
Swallow
) first flew on December 24, 1998 but problems with the RD-600V engines halted the program. On April 2011 an agreement was signed with French Turbomeca to use the 1,306 kW (1,751 hp) Turbomeca Ardiden 3G turboshaft for a revised
Ka-62
Model
Year
History
RusHeli Ka-62
2016
The Ka-62, powered by Turbomeca (now Safran) Ardiden 3G engines, is produced at the Progress Arsenyev Aviation Company in Russia Far East. ...





List of Operators of Kamov Ka-60 Kasatka
From
Organisation with model Ka-60 Kasatka






Construction Numbers on database of Ka-60 Kasatka or its versions


C/N
Built as
Year
History
601
602


2 C/N.