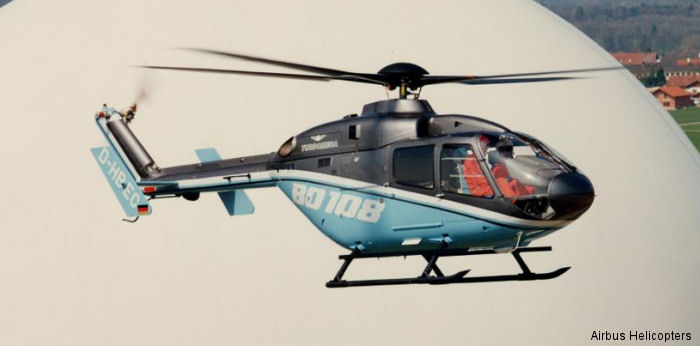 The six-seat
MBB Bo108
was a twin engine helicopter designed to replace the
Bo105
.
First prototype (D-HBOX) flew for the first time on October 15 1988 powered by two Allison 250-C20R turboshafts. Second prototype (D-HBEC) followed in June 1991 fitted with Turbomeca TM-319 Arrius IBs. A third powerplant, the Pratt & Whitney Canada PW206B, was also planned from the beginning. Both prototypes used conventional tail rotors instead of the
Fenestron
.
In early 1990s, MBB merged with French Aerospatiale to form
Eurocopter
. The Bo108 were used as technology demonstrators for the production model, the
EC135
.
New technologies introduced by the Bo 108 included the first full-authority digital engine controls (FADEC) on a helicopter and bearingless main rotor later adopted by the Sikorsky/Boeing
RAH-66 Comanche
attack helicopter.
Model
Year
History
EC EC135
1994
Twin-engine helicopter widely used amongst police, ambulance services and for executive transport. Originally developed by MBB from their Bo.108, ...





List of Operators of MBB Bo108
From
Organisation with model Bo108






Construction Numbers on database of Bo108 or its versions


C/N
Built as
Year
History
VT-001
1988
D-HBOX
VT-002
1991
D-HBEC


2 C/N.