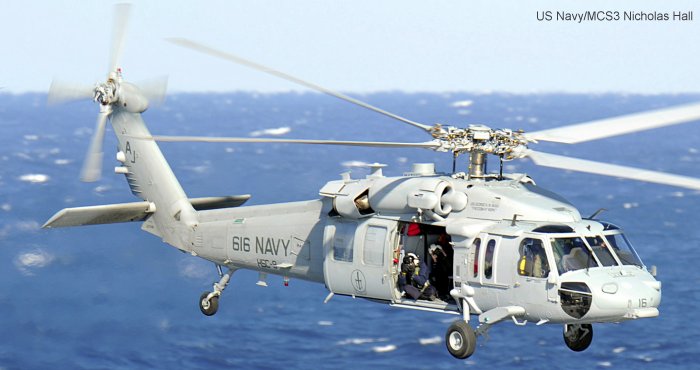 The
MH-60S Seahawk
was developed for the US Navy as a multi mission helicopter undertaking roles of anti-surface warfare, vertical replenishment, combat search and rescue (CSAR), special warfare support and airborne mine countermeasures. 132 ordered by 2006.

The MH-60S is based on the
Army UH-60 Black Hawk
but with the engines, drivetrain and rotors of the naval SH-60 Seahawk. A converted UH-60 prototype first flew on January 27, 2000. It was originally ordered in 1998 as the
CH-60S
, and unofficially known as
Knighthawk
, but was redesignated MH (multi-mission) in 2001. Replaced the
UH-46 Sea Knight
(Hence, the
Knight Hawk
) in the logistic role, the land-based
UH-3H Sea King
and the carrier-based CSAR
HH-60H
Seahawks. This resulted in the merger of the HC and HS squadrons into the new HSC units
Its main visible difference between other Seahawks is the aft-mounted tail wheel like those used by Army's Black Hawks. The MH-60S has a common cockpit shared with the
MH-60R
which allow a pilot to shift from one aircraft to another with minimal re-training.
On January 2013 was suggested that in their intended airborne mine countermeasures (AMCM) mission, the MH-60S equipped with the AQS-20A sonar may not be operationally effective or suitable because the helicopter is underpowered and cannot safely tow the sonar under the wide variety of conditions necessary. By 2017 MH-60S operates Airborne Mine Neutralization Systems
AMNS
.
MH-60S deploys in expeditionary-armed helicopter detachments that execute naval special warfare, amphibious search and rescue, theater security cooperation, strike coordination and reconnaissance, anti-surface warfare, humanitarian assistance, and disaster relief and utility missions in support of the fleet.
List of Operators of Sikorsky MH-60S Seahawk
From
Organisation with model MH-60S Seahawk
1983
1997




Construction Numbers on database of MH-60S Seahawk