First flown Dec 2006 at NAS Patuxent River
Webster Field
annex.

MQ-8B Fire Scout Surpasses 1,000 Flight Hours, 27-Oct-10 : SAN DIEGO -- The Northrop Grumman Corporation-built MQ-8B Fire Scout vertical unmanned aerial system (VUAS) has passed the 1,000 flight test hours milestone, attesting to its steady maturation as a key intelligence, surveillance and reconnaissance asset for military forces.
MQ-8B Fire Scout to Enter Production, 31-May-07 : SAN DIEGO -- The U.S. Department of Defense has announced that Northrop Grumman Corporation's MQ-8B Fire Scout Vertical takeoff and landing Tactical Unmanned Air Vehicle (VTUAV) has reached Milestone C, signifying the beginning of its low-rate initial production phase. The Fire Scout is the first unmanned aircraft system (UAS) within the U.S. Navy and the third UAS of all U.S. military branches to meet Milestone C in the Defense Department acquisition process.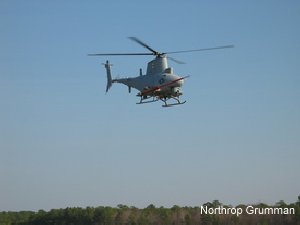 MQ-8B Fire Scout first flight, 20-Dec-06 : SAN DIEGO -- Northrop Grumman Corporation and the U.S. Navy have successfully completed the first series of flights of the enhanced, more capable version of the Fire Scout vertical takeoff and landing tactical unmanned air vehicle (VTUAV), the MQ-8B.
Fire Scout MQ-8B Completes Critical Design Review, 05-Dec-05 : SAN DIEGO -- Northrop Grumman Corporation has successfully conducted a critical design review of its MQ-8B Fire Scout unmanned aerial vehicle (UAV) for the U.S. Navy. The review moves the program closer to full-scale production and delivery of the vertical takeoff and landing UAV to the Navy.
List of Operators of Northrop-Grumman MQ-8B Fire Scout
From
Organisation with model MQ-8B Fire Scout
2006






Construction Numbers on database of MQ-8B Fire Scout