The
Russian Helicopters
Mi-171A2 is powered by FADEC equipped Klimov VK2500 turboshafts, a KBO-17 integrated avionics suite and a new tail rotor. The helicopter has a more efficient X-shaped steering screw and a new rotor with composite blades and an improved aerodynamic profile.
A standard Mi-8/17 was used as
flying laboratory
. The first prototype performed maiden flight on November 25, 2014.
One prototype
involved in accident
on August 2018.
Mi-171A2 Certified in India and Colombia, 01-Dec-19 : #Certificate New Russian helicopter Mi-171A received civilian certification in India and Colombia allowing deliveries to start. Already certified in Russia, approvals from China, South Korea, Brazil, Mexico and Peru among others are expected to follow soon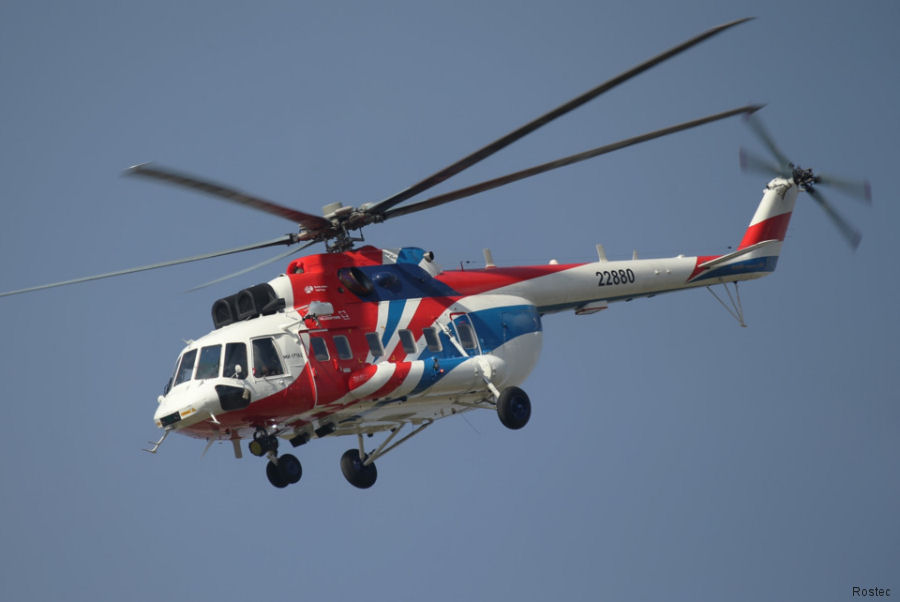 Mi-171A2 Begins Certification in Brazil, 14-Feb-19 : #Certificate Agência Nacional de Aviação Civil (ANAC), the Brazilian aviation authority, beginning certification process of the Russian Mi-171A2 helicopter for their local market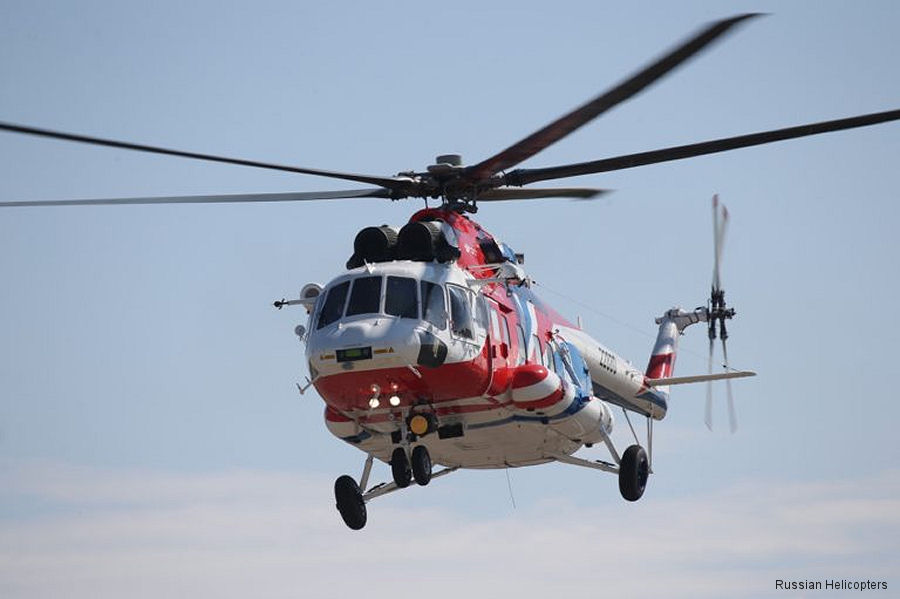 Russian Helicopters Completes Southeast Asia Tour, 04-Dec-18 :

#SoutheastAsia With a final stop in Kuala Lumpur, Russian helicopters Mi-171A2 and the Ansat finished their demonstration Heli Tour through Southeast Asia which started at the China Airshow and continued through Vietnam, Cambodia, Thailand and Malaysia
List of Operators of Mil Mi-171A2
| | |
| --- | --- |
| From | Organisation with model Mi-171A2 |
| 2007 | |
| 2014 | |
| 2018 | |
| 2020 | |
| 2022 | |
Construction Numbers on database of Mi-171A2


C/N
Year
History
171A02643140101U
514 grey : w/o 03aug18 hard landing at mount Elbrus

171A02643170102U
RA-22880 : Russian Helicopters, ex 702 white
Nov18 pictured being prepared for China Airshow 2018, Z+

171A02643170103U
RA-22894 : Russian Helicopters

3 C/N.