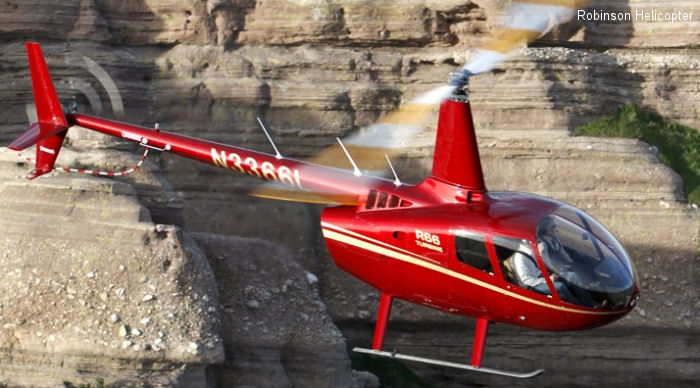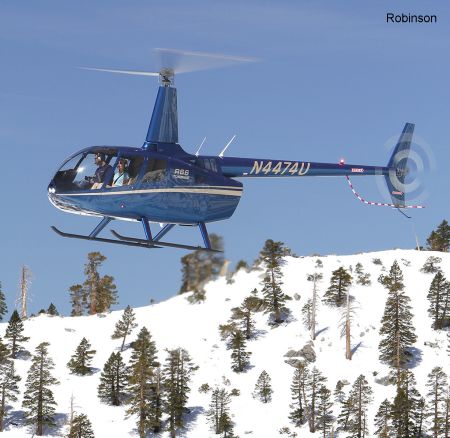 Canada certifies Robinson R66 Turbine, 31-May-13 : Torrance, CA - On 31 May 2013, Transport Canada issued its type certificate for the R66. Thirteen U.S. registered R66 helicopters are currently operating in Canada, and Robinson will deliver another thirteen by the end of this year.
R66 Turbine receives Russian certification, 21-Mar-13 : Torrance, CA — On 15 March 2013, the IAC AR, Russia's FAA equivalent, issued its type certificate for the R66 Turbine. With twenty-two R66 helicopters built and awaiting export to Russia, the long awaited news was a cause for celebration.
100th Robinson R66 delivered, 10-Feb-12 : Torrance, CA — On 23 December 2011, R66 serial number 0100 rolled off Robinson's production line, one year and two months after the R66 Turbine received FAA certification.
R66 Turbine Receives FAA Type Certificate, 26-Oct-10 : Torrance, CA — On October 25, 2010, three years and eight months after Robinson Helicopter publicly announced plans to develop a five-place turbine helicopter, the Federal Aviation Administration (FAA) presented Frank Robinson with Type Certificate No. R00015LA for the much-anticipated R66.
List of Operators of Robinson R66 Turbine
| | |
| --- | --- |
| From | Organisation with model R66 Turbine |
| 2007 | |
| 2010 | |
| 2015 | |
Construction Numbers on database of R66 Turbine


C/N
Year
History
Filter
0001
N466R : Robinson

0002
2009
N266RH : Robinson, experimental
marine 15nov14 FAA approved float options; redesig R66 Turbine+
27feb18 pictured with wire strike protection and cargo +

0003
N4512G : Robinson

0004
2010
N4506Y : R66 First Production aircraft; Helistream Inc at Costa+
Polar Star Corp at Kalispell, MT from Dec10

0008
2010
N800VK : Ntm Foundation at Ontario, OR Nov16

0009
2011
N2TC : Helicopter Charter Enterprises Llc at Phoenix, AZ Feb11

0010
N266CY : w/o 01oct11 crash 1m south of Philip, SD, USA. 1 fatali+

0011
2010
VH-ZVQ : Heliflite from Jan11


VH-ZVQ

: Bankstown Helicopters Pty Ltd from Feb11

0015
ZK-HAG : Heliops Southland Ltd; w/o 14nov16 during spraying run +

0016
2011
N66NN : Aerospace Trust Management Llc at Wilmington, DE Feb11-+
19jun11 pictured at AeroExpo Sywell, UK with Robinson r+
G-JNNH : Hawsbates Llp from May14

0017
N66UK : 19jun11 pictured (top) at AeroExpo Sywell, UK. R-44 G-C+


N66UK

: 24sep13 pictured (bot) at the Excel Exhibition Centre, +

0018
N3366L raven helicopters : Raven Helicopter Rentals Inc at Syracuse, NY from Mar11

0019
N166KY B & B air services :
N466RB : Vto Llc at Bloomington, MN Feb15

0020
2011
N109AS : Robinson

0023
2011
N810J : Zatzworks Inc at Homer, AK Dec16

0025
2011
N4481R : Robinson

0026
2011
N45357 : Robinson
Feb.2012 at St.Hubert airport, Canada

0029
ZS-HHN : Starlite, test serial N44765

0031
2011
N4478K : Sloane Helicopters North America Inc at Wilmington, DE +
G-DIGA : AT and P Rentals Ltd Sep14-May15
Helicopter Services Ltd from May15

0032
RA-1981G : w/o 09apr16 near Sidorenky, Serpukhov district, Moscow +

0034
2011
N44829 : Robinson May11


N44829

: Heli-Flight Germany Reichelsheim , D-HRGG not asg


N44829

: Aircraft Guaranty Corp Trustee at Onalaska, TX from May+
: HQ Aviation from Jan15

0035
2011
HK-4815-X : Fundacion Cardiovascular de Colombia (FCV) HEMS, test s+

0040
RA-1588G : OOO Tehnodrom; w/o 28jun14 at Apsheronsky. 4 fatalities

0041
2011
N66MV : Heli4Charter Aviation Inc Trustee at Wilmington, DE Sep+
G-SLDC : Heli4-Charter Llp from Jul14

0042
N117TW : Zions Credit Corp; w/o 23jun16 impacted terrain in Mari+

0043
2011
N335AH : Empire Polo Club at Indio, CA Nov11

0045
2011
N383GG : 2011 Robinson
Dec18-Mar19, sold Robinson R66 2011; $815,000, only 3 +

0046
2011
N804SF : 2011 Robinson
: NAF, ex N804SF

0059
2011
N4502G : from Nov11
06apr13 pictured at Wellesbourne Mountford, England

0065
N45149 : Arrow Trading Inc at Fort Lauderdale, FL Oct/Dec 2011
PR-GZP : Limeira Agropecuária e Participações Ltda

0068
N656LH : Lloyd Helicopters Us from Oct11


N656LH

: Solaire Malaysia, Feb12
4R-SAK : Cosmos Aviation Sri Lanka, based at Colombo. Currently +

0072
VH-HQM : Australia, to New Zealand as Unk
YJ-VHL : Vanuatu Helicopters

0075
2011
: NAF, ex N7033V

0078
VH-KJJ : to ZK-IHU
ZK-IHU : w/o 09mar13 Crashed at Oamaru Valley, near Taupo, New Z+

0093
2011
HP-23 : Panama
Oct18-Jan19, sold Robinson R66 2011; 720 flight hours, +

0094
PR-RBH : 22mar14 pictured at Condomínio Aeronáutico Costa Esme+

0098
PR-DDU : Wakestar Empreendimentos Imobiliarios Ltda from Feb13, +

0109
PR-SVL : 08nov13 pictured at Campo de Marte Airport, São Paulo

0111
2012
N4RH : Heaven Sent Properties Llc at Reno, NV Aug18

0114
2012
N49LG : Southern Cross Aircraft Llc at Fort Lauderdale, FL from+
Feb/Mar 2015, sold Robinson R66 2012 Only 10 (ten) hour+

0115
2012
N966MC : Robinson from Feb12; 11feb12 pictured at HeliExpo 2012,+


N966MC

: Marco Air at Wilmington, DE from Mar12

0134
2012
N616TL : Wings Of Time Llc at Newport Beach, CA Jul16

0141
2012
N226AG : Warren Investment Company Of Nc Inc at Dunn, NC Feb16

0142
C-GAUA : Helico Blais; w/o 04mar19 went missing after departing+

0150
2012
N66LP : Lucas Oil Products Dba at Brownsburg, IN Aug15

0152
2012
N696JS : Quantum Leasing Llc at Scottsdale, AZ Jun12

0154
2012
N66EV : Leisure & Retail Helicopters Inc Trustee at Wilmington,+
G-NSEV : Leisure and Retail Helicopters from Jul14

0160
2012
N779HA : Hughes Aerospace Navigation Solutions Llc at Wilmington+

0174
RA-06375 : Altai-Avia, Russia; w/o 12feb17 after take off at 20.20+

0177
2012
N321WE : 321we Airtour Llc at City Of Industry, CA Oct12

0178
2012
N660KD : Hampton Roads Charter Service at Chesapeake, VA Aug18

0181
RA-06354 : LLC Sfera; w/o 21aug15 near Khlyupino, Odintsovsky Dist+

0184
2012
N184HF : 184hf Llc at Webberville, MI Jan13

0195
2012
PR-MXM : Resort PortoBello Nov12; w/o 20nov13 ditched off Guaib+

0200
PR-HXH : reg Dec12

0204
PR-JBL : Aero Taxi Marinete Ltda; 30mar18 midair collision with +

0212
RA-06347 : Helicopter Club Solnechny, Russia; w/o 07aug16 hit powe+

0213
PR-SIX : Brazil, Sep13

0216
2012
VH-YSE : Heliflite from Feb13

0227
2012
N345PH : Pinnacle Helicopters Holdings Llc at Alder, MT Dec16

0234
2013
PR-HHG : from Mar13

0242
2012
N312CE : Sierra Alpha Helicopters Llc at Dover, MA Dec14

0245
2012
N427RJ : Travelaire Service Inc at Wilmington, DE Nov12

0270
2012
N23UP : Juliet Victor Helicopter Services Llc at Jackson, MO Ja+
RSV Rotor Wing Llc at Iowa City, IA Nov14-Feb19
Silverhawk Security Specialists Inc at Lincoln, NE Feb/+
Seatlle Air Taxi Llc at Issaquah, WA from Apr19

0280
2013
PR-KOC : Koch Hipermercado Ltd from Oct13

0293
2014
N7087U : Aero Leasing Inc at Brookings, OR Apr17

0299
2013
N664PS : Tortolita Helicopters Llc at Tucson, AZ Jan13

0304
2013
N166DL : Awesome Flight Llc at White Plains, NY Sep15

0320
2013
N7071U : Robinson Helicopters May13
CC-AKQ : Transportes Heli-Chile SA; 27mar14 pictured at Santiago+
Jun15 at Santiago de Chile

0339
2013
N67CF : Scouts Rest Ranch Llc at Darby, MT Nov16

0340
2013
N166KW : private at Houston, TX Jan18

0341
2013
N166JW : Rtx Diablo Llc at New Braunfels, TX Aug13

0349
2013
N66CN : Aerospace Trust Management Llc Trustee at Wilmington, D+
G-OHAS : Heli Air Scotland from Jun14; Feb19 still

0351
PT-TPT : 08nov13 pictured at Campo de Marte Airport, São Paulo

0360
PR-IZE : 08nov13 pictured at Campo de Marte Airport, São Paulo

0362
2013
N460AD : Air-one Holdings Llc at Grosselle, MI Mar18

0363
2013
N66EH : Crescent Vertical Llc at Yachats, OR May18

0366
2013
N7061V : Logistics Rs Llc at Los Angeles, CA Aug17

0370
2013
N266AG : Wingless Victory Llc at Shawnee, OK Aug15

0371
2013
N724MD : Meehan Airlines Inc at Clearwater Beach, FL Jun13

0373
2013
N13FR : Robinson Helicopter Co at Torrance, CA Mar14

0383
2013
N7021Z : private at Orlando, FL Jul14-Feb15
Delaware Trust Co Trustee at Wilmington, DE from Mar15
26apr16 at Denham

0394
2013
N50MN : private at El Paso, TX Jul13

0395
2013
N1664U : Jobeco Materials Llc at Santa Teresa, NM Sep13

0402
2013
N4QW : Tomcat Air Ltd Llp at Saint Petersburg, FL Nov13

0409
N646AG : w/o 27jul13 8m Skyhaven airport, Tunkhannock, PA. 5 fat+

0412
S2-AGT : Square Air Limited; w/o 01oct17 Pabna, Bangladesh

0413
2013
N89CC : Jets R Us Llc at Athens, GA Nov13

0421
2013
N36SH : private at Yarrow Point, WA Dec14

0430
RA-06382 : OOO Ferma Lugovaja; w/o 05apr15 Gorodki, Orenburgskaja +

0443
2013
N99MX : Southern Aircraft Consultancy Inc Trustee Sep13-Jun15 +
SP-MWW : Poland

0451
2013
N664QH : Bay Aerial Corp at San Carlos, CA Sep18

0453
2013
N7080J : Shier Aviation at San Diego, CA , ntu
Oct13-Mar14, sold Robinson R66 2013 - New 2013 Robinson+

0459
RA-06205 : Kustard; w/o 20jan15 Tashanta Kosh-Agach district, Alta+

0473
2013
N166TV : Orlando Aircraft Sales Llc at Orlando, FL Jul18

0483
2014
N7035L : Robinson Mar14


N7035L

: Mar/Jul 2014, sold Robinson R66, Brand New 2014
17sep14 flying over Nashville, TN

0484
RA-06233 : w/o 18apr16 at Island Belyi, Yamalo-Nenets Autonomous +

0485
2014
N67GA : Guidance Louisiana Llc at Baton Rouge, LA from Jun14

0487
2014
N660LH : Custom Security Marine at Wilmington, DE Mar/Jul 2014
Tigertown Helicopters at Baton Rouge, LA from Aug14
Sep/Nov 2017, sold Robinson R66 2014; one owner airplan+

0493
2014
N326AG : Amazing Flight Llc at White Plains, NY Jan18