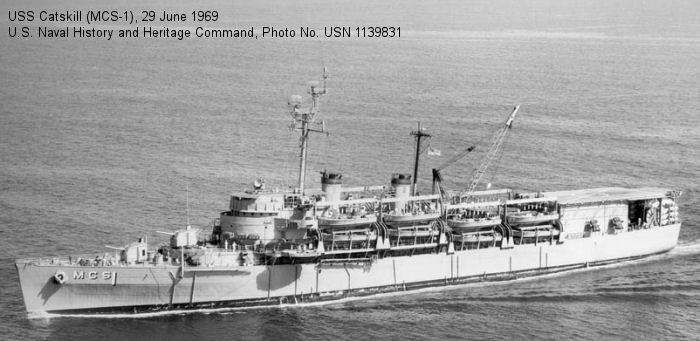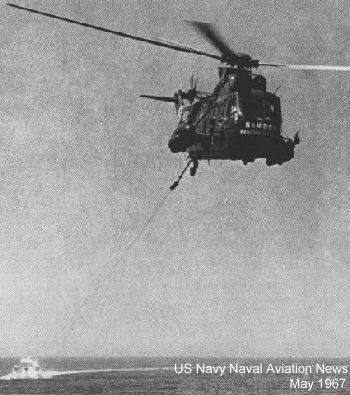 Minesweeper helicopter for the US Navy converted from HHS-2/SH-3A by substituting the anti-submarine equipment by a minesweeping gear.
By Ron Milam, HC-7 Historian
: The
USS Catskill
(MCS-1) carried 22 small, mine sweep boats as well as two RH-3A helos, in tow below deck hangars... The helo detachment left the US from
HC-5
January 9, 1969... Arriving off the coast of Japan, Feb 1969. The helo crew uploaded on to H-46 from
HC-7
Atsugi Japan. (Home base)... The USS Catskill procceded to Sasebo to home port. The mine sweep helos, DET 113, home based at Atsugi, completed MANY detachments aboard Catskill.. I personally was on Det 113 from Jan 1969 to Jan 1970 (I transfered to Combat Rescue helo crew, North Vietnam).. Catskill and helos - demonstrated sweep technics in Japan, Korea, Okinawa, Phillippines, Taiwan, Thailand... It is my believe that while the ship cruised and stopped in harbors of Vietnam, the difficulty was the helo flew at 30' above water, at 20 knots.. a beutiful target. From January to August 1970, the Detachment again returned to many of the same countries... Returned to the USA August 1970, the helos were re-assigned to HC-5, NAS Imperial Beach.
List of Operators of Sikorsky RH-3A Sea King
From
Organisation with model RH-3A Sea King
1961









10 C/N.