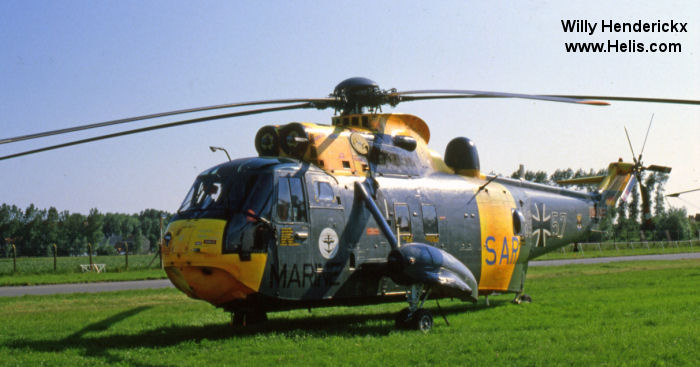 In 1969 Germany ordered 22 Sea Kings to replace H-34G and SH-34J Helicopters. The Mk 41s built for Germany were equipped with much the same navigation and radar equipment as found in the RNs Mk 1s but all the sonar gear was removed and with it the cable-mode hover facility. Additional equipment fitted related to the SAR requirement of searching for very small objects - as small as a human head in a boundless sea. It included the Decca Mk 19 navigator, VOR/ILS (VHF omni-directional range/instrument landing system), ADF370 (automatic direction finding) radio compass and a pack of communication radios compatible with West German ground and air frequencies. Cabin heating system was beefed up - an important feature in SAR operations when survivors are frequently suffering from hypothermia. The Main Cabin was increased from 5.9m to 7.6m and an additional fuel tank was fitted to provide for a total amount of 3000 liter. The Mk.41 Sea King was the pattern for all SAR Sea Kings used by RNoAF, BAF and even the No. 202 Squadron RAF. In 1987 a modernizing program was started. Sea Spray MK3 Radar, Radarwarning AN/ALR 68, Chaff-/Flareanlage M-130 and the capability for firing Sea Skua rockets were implemented. In between the Sea Skua were sent to MFG3 Nordholz and used by the Westland Sea Lynx Mk.88A.

List of Operators of Westland Sea King Mk.41
From
Organisation with model Sea King Mk.41
1973






Construction Numbers on database of Sea King Mk.41





23 C/N.