Search and rescue version for the Belgian Air Force. 5 built
When the UK cancelled an Eqyptian order for Sea Kings, 5 were available for
Belgium
to snap up, to replace its ageing S-58 / HSS-1 SAR fleet.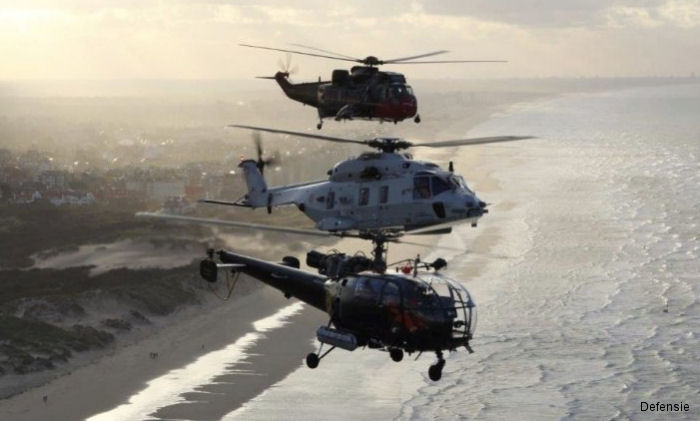 Koksijde SAR Meet 2016, 07-Oct-16 : Belgium with Austria, Germany and Poland taking part of Search and Rescue SAR Meet 2016 at Koksijde, October 10-14
List of Operators of Westland Sea King Mk.48
From
Organisation with model Sea King Mk.48
1969
1976




Construction Numbers on database of Sea King Mk.48


C/N
Year
History
wa 831
1975
G-BDNH : Manufacturer test serial; to Belgium Jul 1976
RS01 : Sea King Mk.48 ex G-BDNH, to Belgian Air Force Nov 1976+
From December 2008 preserved in - Brussel air museum -
17dec08 RS01 last flight after 10585 flight hours
11sep10 pictured preserved at Musee Royal de l Armee et+

wa 832
1976
RS02 : 08apr76 first flight, ex G-BDNI/G17-2; 20may76 handed o+
Jul80 pictured (pic1) at Koksijde SAR meeting
23jul82 picture at Middle Wallop, UK
17jul07 40sm. Operational Intergration Exercise, photo +
May09 BAF 40sm participated in SAR-Meet 2009 from Leeuw+
40Sq, noted 26 Aug 2009, visiting Manston
02may12 visit Oxford (London) Airport
May 2012 visit to Oxford / Kidlington for participation+
23jun12 at Florennes air show
13jul13 pictured (pic2) at Valenciennes-Denain, France
02sep13 makes its 3,000th scramble during an organ tran+
26jun15 pictured (pic3) at Semmerzake ATCC Open Door
15jul17 pictured (pic4) on display at Fairford 2017
For sale at Koksijde AB by May19

wa 833
1976
RS03 : Apr76 first flight, ex G-BDNJ/G-17-3; 28may76 handed ov+
06jul08 pictured at Kleine Brogel airbase (EBBL) during+
29aug13 taken out of service after severe metal fatigue+
Mar16 aircarft suffered metal fatigue but was set in op+
Will be presented to the city of Koksijde to be used as+

wa 834
1976
RS04 : 07may76 first flight, ex G-BDNK/G17-4; 14jul76 handed +
26aug09 pictured (top) at Koksijde airbase
03aug14 pictured (bot) at Koksijde
participant in International SAR meet 2014 in the Nethe+
20may15 at Bevekom airshow, Beauvechain
03mar16 out of order due to problems with the airframe +
Aug16 back in service, tests autorotation
For sale at Koksijde AB by May19

wa 835
1976
RS05 : 07jun76 first flight, ex G-BDNL/G-17-5; 02jul76 handed +
02aug94 pictured (pic1) at RAF St Mawgan, UK
Oct94 40sm. participated in SAR meet 94 from Leeuwarden+
24+25jul99 Fairford air show, UK
18aug06 pictured (pic2) at Eastbourne, UK with 25 yrs c+
29jul07 with 40 Sma, pictured (pic3) at Weston-super-Ma+
Jun08 pictured (pic4) at SAR-MEET in Kiel-Holtenau, Ger+
03aug14 pictured (pic5) at Koksijde
arrived 27 Jul for RNAS Culdrose Air Day, on 28 Jul 201+
08sep18 pictured (pic6) during Belgian Air Force Days 2+
Given to VLOC (flight school) in Ostend. Will be used f+

5 C/N.